Focus: China embarks on civil service reforms
( 2003-09-23 09:28) (China Daily)
The latest round of civil service reforms, first implemented 10 years ago, combines Western concepts with Chinese conventions. While not all departments enthusiastically grasp the changes, the economic revolution is making it harder for them to resist.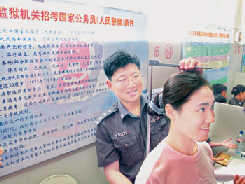 A police officer measures the height of an applicant during a recruitment for civil servants in Shandong Province. [newsphoto.com.cn]
For Li Wumin, May 12, 1996 is memorable - that was the day he sat the local civil servant examination, which he passed with good marks. Three months later, he entered public service.
The straightforward farmer from Northwest China's Shaanxi Province was then elected vice-head of Ganhe Town in Huxian County by local deputies of the People's Congress after five years of dedicated effort.
At the time, he was the only farmer to have passed the exam in the county, which his astonished fellow villagers regarded as a great honour and an even greater feat.
Looking back, the 36-year-old said he was perplexed as to why he had been laid off four times during his 10 years as a temporary worker for the township government of Zu'an in Huxian County.
But the reason was very simple. Li, as a farmer, found it nearly impossible to get the requisite qualifications and approval to work for the local government as a full-fledged civil servant, even though he had worked very hard.
More than 5,000 other farmers like Li have been recruited into the civil service system, mainly at the town or county-level, since China first started employing civil servants via examinations 10 years ago.
In addition to these farmers, about 150,000 people working for State-owned enterprises, non-State enterprises and social institutions, as well as those seeking jobs, have also been employed as civil servants through such exams.
Statistics from the Ministry of Personnel show that a total of 2.4 million people have registered to take the exam since then, with 700,000 being selected as public servants at all levels of government from township to provincial in the country.
"Based on the principles of 'transparency, fairness, competition and merit', the examination system has been successful in reforming China's civil personnel system," said Zhang Bailin, current Minister of Personnel.
Actually, the exam used to recruit civil servants is one of several effective measures adopted by the central government to improve administrative reform since the early 1990s.
The first steps towards civil service reform took place in 1990 through pilot schemes in selected cities under the guidance of the State Council.
Zhuozi County, for example, in North China's Inner Mongolia was cited as the national paragon for the streamlining exercise and civil service reform. Thirty-odd Party and government departments in Zhuozi were slashed. And the number of cadres and other civil servants was cut from more than 700 to 300, leading to savings of 3 million yuan (US$362,000) a year and raising efficiency levels.
But until the spring of 1993, administrative reform was restricted to certain local-level governments.
In August of that year, the State Council announced a temporary regulation for setting up a civil service within three years.
According to Song Defu, the then-Personnel Minister, the new system, to be based on a sound legal system, was designed to provide a more logical management structure based on job classification, promote cleaner government and facilitate checks and balances.
Clear-cut criteria were set forth regarding recruitment by open examination, the classification of grades, grounds for promotion and demotion, as well as the rights and duties of government employees.
Civil service, Chinese-style
On the whole, China's official civil service system is different from those found in Western countries because of its historical and cultural circumstances.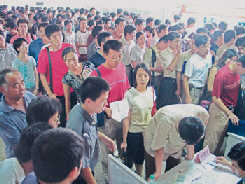 Applicants queue at a recruitment exercise for civil servants in Shangdong. Both college graduates and rural-residency holders are welcome to apply for positions at county-level governments. [newsphoto.com.cn]
"We conduct comprehensive studies of related foreign systems, but we refrain from blindly copying the system of any one country. Instead, we extricate those elements we find useful and integrate them in line with the reality in China," said Vice-Personnel Minister Hou Jianliang.
For instance, all blue-collar workers, regardless of whether or not they work for government agencies, are excluded from the civil service in China.
China's preference for separate management systems for white and blue-collar workers reflects the authorities' perception that cerebral and manual labourers make different contributions to the value of production and, perhaps more recently, officials' perception that each has different needs. The preference is also part of China's historical legacy.
From the founding of the People's Republic of China in 1949, the central government placed all white-collar workers under a single management system, known as the 'cadre' system, the most important principle of which was, and continues to be, that "cadre management comes under the leadership of the Party".
Unlike many other countries, no distinction is made between politicians and civil servants in China: the most senior officials, including the Premier, Vice-Premiers, State Councillors, Ministers and Provincial Governors, who are elected, and who in other systems would be classified as political officials, are all counted as civil servants in China.
In 1993, the central government established a new civil service system and officially defined "civil servants" as those 5.285 million "cadres" or administrators, managers and professionals who work for government agencies.
Since the early 1980s when the country adopted its policy of reform and opening up to the outside world, the economic system has been in transition, moving from a centrally planned economy to a market-based one.
While economic growth has been rapid since 1980, on a per capita basis China's level of economic development is still relatively low.
These factors have been critical in shaping China's civil service system and the behaviour of civil servants.
Government offices and various institutions were long considered to be free of corruption. The impact of the surging tide of the commodity-centred economy, however, led to an increasing number of cases involving State officials who abused their power in pursuit of personal gain or who frequently bartered power for money.
Some experts and scholars proposed "building clean government by offering high salaries" based on a perfected legal system, as well as providing office workers with old-age pensions, unemployment benefits and medical insurance.
The argument has been played out in the media for several years, but due to a prevailing belief that wages have nothing to do with clean government, it has yet to be taken seriously.
Curbing corruption
The emphasis put on the principles of "transparency, fairness, competition and merit" in setting up the civil service system mirrors something of a long-term problem throughout the country.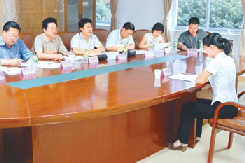 An interview is usually arranged for each applicant who passes the written exam for civil servants. Experts argue that the process' lack of consistent standards and specific procedures might undermine the mechanism. [newsphoto.com.cn]
"The quality of the country's civil servants has much to do with the nation's economic development," said Ying Songnian, professor and director of the Law Programme with the National School of Administration.
Ying is also a deputy to the 10th National People's Congress (NPC). He and 90 other NPC deputies proposed a new law for the civil service during the body's annual session this year.
China is in urgent need of a civil service act to enhance administrative efficiency and weed out corruption, they asserted.
The open, equal, competitive and qualification-based examination should be strictly implemented by government at all levels, noting that some had ignored test results in the past in favour of their own selection criteria, according to Zhao Chenggen, professor of the School of Government at Peking University.
Zhao further complained that the content of the examination, especially the written test, was too dated to properly assess whether a candidate was qualified to fill a government position.
"More serious problems exist in the interview portion of the examination. It lacks consistent standards and specific procedures," Zhao added.
Such problems can often be found in some government departments where there is a lack of effective supervision of the power wielded by officials.
In order to improve and ensure the calibre of civil servants, the Ministry of Personnel recently introduced a job rotation system, which is directly related to two types of employees - officials and financial and property management personnel.
Regulations stipulate that terms of office should not exceed five years. Job rotation is mainly designed to enable the former group to broaden their horizons and improve their work skills, while preventing the latter group from holding long-term positions that could lead to favouritism.
A promotion system has been also been set up to ensure that outstanding personnel are promoted in a timely manner following clearly defined standards and procedures.
The first measure adopted centred on integrating leaders with the general public by means of public opinion polls and secret balloting. For example, officials are required to submit a list of candidates for a position in accordance with the results of the poll.
A second measure focuses on conducting qualifying examinations to determine a candidate's educational level, as well as take into account the number of years spent at a post, and to ensure that various other factors fulfill all standards.
Yet another measure involves conducting a strict assessment of administrative achievements and soliciting the opinions of the general public. Officials amassing excessive complaints will fail to qualify for promotion to higher positions.
Although China has promoted this civil service system for 10 years, it is difficult to say whether some of the new measures have altered the sector's mentality; in some government departments, civil servants continue to follow the old rules and refuse to innovate.
Promotion in the civil service tends to emphasize seniority and a clean, mistake-free record.
Civil servants are, therefore, encouraged to accumulate years of service while avoiding trouble.
China's changing political and economic environments have had a major impact on the civil service system. The revolutions of 1911 and 1949 prompted constitutional change that transformed the operational rules of the systems then in place. More recently, the decision to abandon central planning and work towards a market economy has forced additional operational changes, according to John P. Burns, guest lecturer of the Department of Politics and Public Administration at the University of Hong Kong.
New measures to supervise civil servants
-- Soliciting public opinion polls and secret balloting to integrate leaders with the general public;

-- Conducting qualifying examinations to determine a candidate's calibre;

-- Conducting a strict assessment of administrative achievements.