US drive for Iraq help suffers despite a suicide bomb
( 2003-09-23 09:24) (Agencies)
U.S. efforts to enlist more countries to share the burden of occupying Iraq suffered a double blow on Monday when a suicide bomber attacked the U.N. compound in Baghdad and two potential troop contributors set conditions.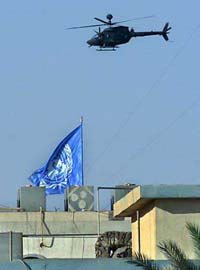 A U.S. OH-58 Kiowa surveillance army helicopter patrols over United Nations headquarters in Baghdad September 22, 2003 shortly after a car bomb exploded in a car park nearby. A suicide car bomber blew himself up, killing an Iraqi security guard and wounding 19 people, the U.S. military said. [Reuters]

The bomber killed an Iraqi guard and wounded 19 people on the eve of the annual U.N. General Assembly session, at which President Bush will urge skeptical world leaders to provide money and troops to help pacify and rebuild Iraq.

U.N. Secretary-General Kofi Annan voiced dismay at the deteriorating security situation after the second attack in just over a month on the compound and said U.N. officials were reassessing the world body's posture in Baghdad.

"We need a secure environment to be able to operate," Annan told reporters. "We will go forward, but of course if it continues to deteriorate, then our operations will be handicapped considerably."

The U.N. Staff Union urged him to withdraw all staff until Iraq was safer and aid workers better protected. On Aug 19, a truck bomb devastated the same complex, killing U.N. special envoy Sergio Vieira de Mello and 21 others.

Muslim U.S. allies Pakistan and Turkey both spelled out conditions for sending forces to Iraq, while France repeated its call for an early transfer of sovereignty to Iraqis.

Pakistani President Pervez Musharraf, to whom Washington is looking for a major contingent of peacekeepers, told The New York Times there was strong public opposition in his country.

That would only change if "the United Nations, Muslim countries, Arab counties and Iraqis themselves are asking for Muslim troops," he said.

The United States is working on a new U.N. resolution aimed at attracting wider support for postwar reconstruction, but critics of its invasion are pressing for more concessions.

Secretary of State Colin Powell told reporters Washington was in no hurry. "There's no sense of urgency here because we have a pretty good idea of what such a resolution would say and there's pretty good support for a resolution."

TURKEY WANTS ASSURANCES

The United State agreed to give Turkey an $8.5 billion loan to bolster its economy and offset costs incurred due to the war, even though Ankara refused to let American troops invade Iraq from Turkish soil.

The aid was conditional on "cooperating with the United States in Iraq" but not explicitly on a troop contribution.

Turkish Foreign Minister Abdullah Gul told Reuters the Turks were not yet satisfied with U.S. responses to Kurdish PKK guerrillas in northern Iraq and wanted assurances of action before they decide whether to send peacekeepers.

French President Jacques Chirac, who spearheaded opposition to the war, told The New York Times ahead of a meeting with Bush on Tuesday that France would not send peacekeepers and wanted sovereignty handed over fast to an Iraqi authority.

"There will be no concrete solution unless sovereignty is transferred to Iraq as quickly as possible," Chirac said. He suggested that actual power could be handed over gradually over a period of six to nine months.

Powell has dismissed the French position as "totally unrealistic."

Chirac said France was not thinking of vetoing the new U.S. resolution. His closest anti-war European ally, German Chancellor Gerhard Schroeder, will meet Bush for ice-breaker talks on Wednesday. He is expected to offer limited help to train Iraqi soldiers and police, but no peacekeepers.

Members of Iraq's U.S.-appointed Governing Council were in New York and Washington lobbying for international recognition. The council's current president, Ahmed Chalabi, is due to address the U.N. session next week.

World leaders debated ways to fight two other global scourges -- AIDS and terrorism -- but the unresolved problems in Iraq and the Middle East formed a gloomy backdrop.