Pakistan, Palestinians hit Indian, Israeli 'terror'
( 2003-09-23 09:19) (Agencies)
Pakistan and the Palestinians upset an anti-terrorism summit on Monday, accusing India and Israel of "state terrorism" that could justify Muslims engaging in guerrilla warfare against them.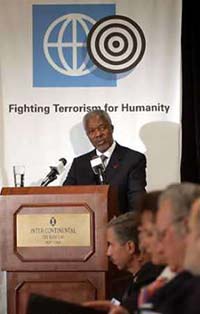 United Nations Secretary General Kofi Annan delivers his opening address at a conference on fighting terrorism Sept. 22, 2003 in New York. Annan warned world leaders that the war against terrorism must go beyond simply fighting extremists but also hold out the promise of a "better and fairer world." [Reuters]

"State terrorism targets people seeking freedom from foreign occupation -- as in Palestine and Kashmir," Pakistani President Pervez Musharraf said.

"There should be no selective application of the international norms and standards against terrorism," he told a day-long conference of world leaders at a New York hotel.

So long as India "persists in its violent suppression of the Kashmiri people, they have a legitimate right to resist Indian occupation," Musharraf said. "Equating their freedom struggle with terrorism is a travesty."

"We are ready for dialogue. Now it is India's call. It should respond positively," he said.

Musharraf's remarks were echoed by Palestinian Authority Foreign Minister Nabil Shaath, who told the conference that armed struggle against Israel was justified by its use of "state terrorism" against Palestinians.

India did not attend the summit and had no immediate reaction, but Israeli Foreign Minister Silvan Shalom lamented that Shaath had chosen to blame Israel "rather than fight our common enemy, terrorism."

More than 20 world leaders gathered at the conference only hours after a second attack in weeks on U.N. headquarters in Baghdad killed a security guard and wounded 19 people.

The first attack on Aug. 19 killed 22 people including Sergio Vieira de Mello, the U.N. mission head in Iraq.

The summit, convened two years after the Sept. 11, 2001, attacks on the United States, opened on the eve of a two-week 191-nation U.N. General Assembly, expected to focus on terrorism and post-war Iraq.

President Bush has made the war on terrorism his top international priority but did not send a senior administration official to the summit. The United States was represented by Senate Foreign Relations Committee Chairman Richard Lugar.

U.S. officials said Bush would not be in New York until Tuesday while Powell was busy with a U.N. special session on AIDS.

Lugar, a Republican from Indiana, said the top priority in the war against terrorism must be to keep nuclear, biological and chemical arms out of the hands of militants who could use them in suicide attacks.

Musharraf dismissed the idea that a "militant Islam" was at the root of terrorism. "There are only some 'militant Muslims' -- as there are militant Hindus, Christians and Jews," he said.

"Most of the political disputes of our times afflict Islamic peoples and nations," he said. "Religious extremism and militancy have risen because these conflicts have been allowed to fester. There is a feeling in the Muslim world that Islam is being targeted."

Most of the world leaders addressing the conference called on the international community to seek out the root causes of terrorism and warned that torture, assassination and accidental civilian deaths could strengthen the militants.

"Terrorism will only be defeated if we act to solve the political disputes and long-standing conflicts which generate support for it. If we do not, we shall find ourselves acting as a recruiting sergeant for the very terrorists we seek to suppress," U.N. Secretary-General Kofi Annan said.