Arafat says wants total truce; Israel rejects move
( 2003-09-23 09:00) (Agencies)
Palestinian President Yasser Arafat declared a commitment to reaching a total cease-fire with Israel in a letter given to envoys of the peacemaking "Quartet," Palestinian officials said on Monday.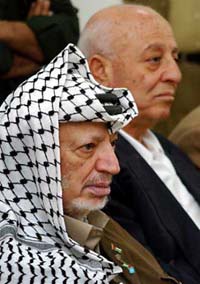 Palestinian President Yasser Arafat (L) and Prime Minister-designate Ahmed Qurie attend a meeting in the West Bank city of Ramallah, Sept. 22, 2003. Arafat declared a commitment to reaching a total cease-fire with Israel in a letter given to envoys of the peacemaking 'Quartet,' Palestinian officials said. [Reuters]

But the letter cited conditions, including an international observer force to help enforce U.S.-led peace moves, that Israel has already rejected. Israeli officials swiftly dismissed Arafat's initiative as a ploy to avoid threatened expulsion.

The Quartet includes the European Union, United States, United Nations and Russia.

Progress on the "road map" peace plan, which envisages Palestinian statehood by 2005, has been stymied by a relapse into tit-for-tat bloodshed. In the latest violence, Israeli troops killed a Palestinian militant in the West Bank on Monday.

In a move that could ease tensions, a deal appeared to be in the making under which Israel may free Palestinian uprising leader Marwan Barghouthi in a prisoner exchange with the Lebanese guerrilla group Hizbollah.

Barghouthi, also a leader in Arafat's Fatah movement, is on trial in Israel charged with orchestrating killings of 26 Israelis. He denies involvement in violence.

A senior Israeli security source told Reuters: "An agreement could be struck soon, but it's not fixed yet."

An Israeli Foreign Ministry official would not comment on the deal, but denied Barghouthi could be freed, citing a legal opinion that bars the release of suspects standing trial.

With German mediation, Israel has been negotiating for the release of a businessman and the bodies of three soldiers believed to have died after capture on the Lebanese frontier.

Israel has also sought information at least on the fate of air force navigator Ron Arad, shot down over Lebanon in 1986.

Hizbollah has sought the release of 15 Lebanese including guerrilla leaders Sheikh Abdel Karim Obeid and Mustafa Dirani, seized by Israel in 1989 and 1994 as bargaining chips for Arad, as well as Palestinians, Syrians and Jordanians held by Israel.

ARAFAT TELLS PEACE BROKERS HE'S AGAINST VIOLENCE

Senior Palestinian negotiator Saeb Erekat told Reuters that Arafat received Quartet envoys from the EU, U.N. and Russia in his half-demolished compound in the West Bank city of Ramallah, where Israeli forces have confined him for almost two years.

"President Arafat handed them a letter in which he said he is committed to a total cessation of violence against Israelis anywhere, provided the Quartet intervenes to revive the road map and sends monitors to commit the two sides to implement it."

Later Arafat received a letter from British Prime Minister Tony Blair. Without disclosing its contents, he thanked Blair for his efforts to support the road map and "protect the peace process," the Palestinian WAFA news agency said.

Raanan Gissin, a senior adviser to Israeli Prime Minister Ariel Sharon, waved aside Arafat's gesture.

"Everything he says to the Quartet is based on his fear of the sword of Damocles over his head -- the fear that he will be deported," he said, referring to a recent Israeli cabinet decision to "remove" Arafat by unspecified means.

Ahmed Qurie, nominated as prime minister by Arafat, told reporters Monday evening he sought to soon form a government that could agree "on bringing an end to the chaos in Palestinian society," including the "storage and use of weapons."

Former Israeli Prime Minister Shimon Peres, who heads the opposition Labour Party, used an 80th birthday speech to beseech Sharon to pull Israeli troops and settlers out of the Gaza Strip.

"You know we have no future in the Gaza Strip. You know it deep in your heart -- it can't be otherwise," Peres said in Tel Aviv. "Let me tell you: Your test, our test, is to make a decision as quickly as possible...Let's not postpone it."