Dow Jones ruled to compensate Chinese calligrapher
( 2003-09-23 01:14) (China Daily)
A Beijing court yesterday ruled Dow Jones must pay 405,684 yuan (US$49,000) in compensation to a Chinese calligrapher for copyright infringement.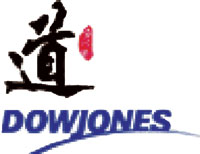 Dow Jones' corporate symbol
According to the judgment by the Beijing No 1 Intermediate People's Court, in 1994 plaintiff Guan Dongsheng, a professor at the Central University of Nationalities gave a calligraphy of "Dao,'' the first character of Dow Jones' Chinese translation, to the US company's chief executive officer as a gift.
Without permission from Guan, in late 1994 the multi-national media giant began to use his handwriting as Dow Jones' corporate symbol on its website, advertisements and business cards.
According to the Copyright Law, Dow Jones did not acquire the copyright of the calligraphy even though it was presented with the original version of the handwriting, said sources with the court.
Guan told China Daily he is also preparing to sue Dow Jones for unauthorized commercial use of his calligraphy in countries and regions outside the Chinese mainland, including the United States, Singapore,Hong Kong Special Administrative Region and Taiwan.
Sources with Dow Jones' Beijing office declined to comment on the judgment, and Li Qing, a lawyer representing Dow Jones, said the company is still deciding whether to appeal to a higher court.
The ruling also ordered Dow Jones to cease using the plaintiff's calligraphy as a corporate symbol and to make a written apology to Guan.
Guan said he is basically satisfied with the decision, except for the amount of compensation.He sought 5 million yuan (US$603,860) for economic loss and mental anguish, but the court said his estimation of economic loss could not be determined and there was no proof of mental anguish.
Guan said he will donate what's left of the compensation after legal fees to intellectual property rights protection organizations.
Dow Jones last year offered Guan US$10,000 to settle out of court, but he refused.