Criticism about renminbi refuted
( 2003-09-23 01:14) (China Daily)
China has refuted recent United States criticism about its exchange rate policy, reiterating its principles of independence and responsibility in handling the issue.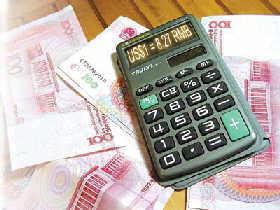 "The exchange rate system and policy are a country's internal affair and no other country has the right to interfere," a spokesman for the State Administration of Foreign Exchange (SAFE) said Monday.
"On this issue, China has always been independent and highly responsible, on which the international community has long agreed."
Speculation that the exchange rate of the Chinese currency, known as the renminbi or yuan, would appreciate under foreign pressure subsided after US Treasury Secretary John Snow's visit to Beijing earlier this month. He came to press the Chinese Government to revalue the currency.
But US Commerce Secretary Donald L. Evans soon stepped up criticism, accusing the country of backsliding on the promises to ease restrictions on foreign companies, dismantle trade barriers and clamp down on software piracy.
The SAFE spokesman reiterated that China will continue to maintain the basic stability of the renminbi's exchange rate, which he said has not only helped promote China's reform and opening-up and stimulate domestic demand, but contributed to the fight against the Asian financial crisis.
"It's proven that maintaining the basic stability of the renminbi's exchange rate benefits not only China, but also Asia and the world," he said.
US manufacturers complain that China has kept its exports artificially cheap by keeping the yuan undervalued against the dollar, resulting in losses of US manufacturing jobs. In Congress, lawmakers are pushing for legislation that would impose import tariffs on Chinese products comparable to the amount they claim China's currency is undervalued.
"Any form of trade protectionism is unfair and a breach of World Trade Organization rules," the SAFE spokesman said.
"One should not turn the exchange rate issue into an international political issue and use it as an excuse for trade protectionism."
He said the employment problems in developed countries are unrelated to China's exchange rate policy. "Every country has its own structural adjustment, employment and reemployment problems," the spokesman said.
"From 1998 to 2002, China's total secondary industry employment decreased by 8.2 million, but we never blamed any other country."
He noted that the main reason for China's trade and capital account surpluses is globalization -- especially the transfer of production by many multinationals to the Chinese market -- in addition to its narrowing of the renminbi's floating range in 1997 as part of efforts to deal with the financial crisis.
"We never purposefully pursued a sizable surplus on the international balance of payments," the spokesman said.
China's foreign trade surplus is declining. Its total trade surplus fell by 66.5 per cent on a year-on-year basis to US$4.5 billion in the first half of the year, while its trade deficit with Japan more than tripled to US$6.7 billion.