Suicide Bomber kills 2 at UN HQ in Baghdad
( 2003-09-22 14:14) (Agencies)
A car bomb exploded Monday morning while the vehicle was being examined at a checkpoint as it tried to enter the U.N. compound, killing at least two people and injuring eight others.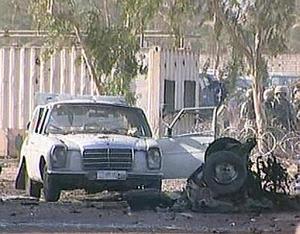 Wreckage from a car bomb that exploded while being examined at a checkpoint near the U.N. compound at the Canal Hotel in Baghdad, Iraq Sept. 22, 2003, is shown in this image from television. At least two people were killed in the explosion. [AP]

The blast occurred about 100 yards from the U.N. compound at the Canal Hotel, scene of a devastating car bombing last month that killed 23 people, including the U.N.'s top envoy in Iraq, Sergio Vieira de Mello.

"The bomber drove up and was engaged by an Iraqi security individual just before the checkpoint," a U.S. 2nd Armored Cavalry Regiment spokesman, Capt. Sean Kirley, told reporters at the scene. That policeman was killed, although it was not clear whether he was shot or died in the explosion, he said.

Kirley said eight other Iraqi policemen were wounded. He said he didn't know whether any U.S. troops were near the scene at the time, but none was wounded.

United Nations staff have continued to work in undamaged offices at the hotel complex since the Aug. 19 bombing.

The blast, which could be heard over much of the Iraqi capital, took place two days before President Bush is expected to address the U.N. General Assembly and offer an expanded role in rebuilding Iraq, a condition set by many nations for contributing peacekeepers and money to the reconstruction effort.

Secretary-General Kofi Annan has made clear he wants assurances of security for U.N. personnel in Baghdad along with any expanded role.

The United Nations curtailed its efforts in Iraq after the Aug. 19 bombing. At the time of the attack, U.N. spokesman Fred Eckhard said there were about 300 international staff in Baghdad and more than 300 elsewhere in Iraq. These numbers are thought to have now been dramatically reduced.

After the bombing, about 20 U.S. military vehicles could be seen swarming around the compound, and the area in northeastern Baghdad was sealed off by Iraqi police.

The bomb exploded two days after an assassination attempt against Aquila al-Hashimi, one of three women on the Iraqi Governing Council and a leading candidate to become Iraq's U.N. ambassador if the interim government wins approval to take the country's U.N. seat.

She was reported in serious but stable condition following the Saturday attack, which occurred as she was riding in a car near her home in western Baghdad. The Governing Council president, Ahmad Chalabi, blamed remnants of the regime of Saddam Hussein, whose government was toppled by U.S.-led forces in April.

Since President Bush declared an end to major combat operations May 1, more than 160 American soldiers have been killed. More than 300 U.S. soldiers who have died in Iraq since the U.S.-led coalition launched military operations March 20.

The ongoing violence has raised questions about American stewardship of the country and has led to calls for an expanded role for the United Nations in post-Saddam Iraq.

On Sunday, President Bush said he's not sure the United States will have to yield a significantly larger role to the United Nations to make way for a new resolution on Iraq. He continued to insist on an orderly transfer of authority to the Iraqis rather than the quick action demanded by France.

In an exclusive interview with Fox News' Brit Hume, Bush said he will declare in his speech Tuesday at the U.N. General Assembly that he "made the right decision and the others that joined us made the right decision" to invade Iraq.

But the president said he will ask other nations to do more to help stabilize Iraq.

"We would like a larger role for member states of the United Nations to participate in Iraq," Bush said in the interview to be aired Monday night. "I mean, after all, we've got member states now, Great Britain and Poland, leading multinational divisions to help make the country more secure."

Asked if he was willing for the United Nations to play a larger role in the political developments in Iraq to get a new resolution, Bush responded, "I'm not so sure we have to, for starters."

But he said he did think it would be helpful to get U.N. help in writing a constitution for Iraq.

"I mean, they're good at that," he said. "Or, perhaps when an election starts, they'll oversee the election. That would be deemed a larger role."

Germany, France and Britain have also called for more authority for the world body in Iraq, as Washington debates with its allies over a new U.N. resolution. British Prime Minister Tony Blair, however, has not joined France's call for a quick handover of power to Iraqi, backing the U.S. stance instead.

Bush said he would tell the United Nations that while some countries did not agree with the U.S.-led military action in Iraq, it's now in the international community's best interest to not only rebuild Iraq, but rebuild Afghanistan, fight AIDS and hunger, deal with slavery and proliferation of heinous weapons.

He said the United Nations has a chance to do more as a result of U.N. resolution 1441.

The United States argues that U.N. resolution 1441, passed unanimously in November, provided sufficient authority for the U.S.-led war. That resolution threatened Baghdad with "serious consequences" if it failed to show it had handed over or destroyed its weapons of mass destruction.

"That's the resolution that said if you don't disarm there will be serious consequences," he said. "At least somebody (the United States) stood up and said this is a definition of serious consequences."