In Japan, Koizumi cabinet resigns en masse
( 2003-09-22 11:15) (Agencies)
Japanese Prime Minister Junichiro Koizumi's Cabinet resigned en masse Monday, paving the way for him name a new lineup expected to include new finance and foreign ministers.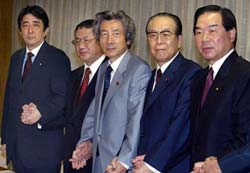 Japanese Prime Minister Junichiro Koizumi (C) shakes hands with his key party leaders after he appointed them in an extraordinary meeting of the general council of the Liberal Democratic Party in Tokyo Sept. 21, 2003(L-R: Shinzo Abe, secretary general, Taku Yamasaki, vice president, Koizumi, Mitsuo Horiuchi, head of the general council, and Fukushiro Nukaga, top policy adviser). [AP]

Koizumi was scheduled to announce the new Cabinet later in the day, after getting the nod from fellow ruling Liberal Democratic Party leaders and from the heads of the party's two junior coalition partners.

"He asked us to resign, and thanked us for our efforts," Transportation Minister Chikage Ogi said after an emergency Cabinet meeting.

Emboldened by a new mandate after winning re-election to a three-year term as head of the ruling party, Koizumi has vowed to push forward with his austere economic policies and promises of structural reform.

He also indicated he would like to call elections for the powerful lower house of Parliament as early as November, setting up a long-awaited showdown with Japan's opposition parties.

Koizumi, who won re-election on Saturday, quickly installed two allies in key party posts. To further consolidate his power, he was expected to name a Cabinet that would lend more support to him on the economic front, which has been his biggest vulnerability.

Koizumi has been coy about his selections.

He was generally expected to name a new finance minister to replace Masajuro Shiokawa, who is 81 years old and in ill health. Shiokawa has said that he would have trouble accepting the post even if it were offered to him.

Attention was also focused on whether Koizumi would stand by his controversial economic policy and banking adviser, Heizo Takenaka. Takenaka's tough stance on cleaning up the huge pile of bad debt amassed by Japan's banks has made him unpopular with many in the party but has been welcomed by economists and investors.

Though he won re-election by a wide margin, Koizumi is under intense pressure to replace members of his current Cabinet who were selected not from within the ruling party but from the private sector.

Takenaka, a former university professor, is among that group, as is Foreign Minister Yoriko Kawaguchi and Education Minister Atsuko Toyama.

Japanese media reported Monday that Tanenaka would likely keep his seat in the Cabinet but give up one of two portfolios he holds concurrently ¡ª he is both minister for economic policy and minister for financial services.

Koizumi was also under pressure to appease the biggest faction within his party by giving it a high-profile presence in the Cabinet.

Naming a Cabinet in Japan has traditionally involved a careful balancing act, giving each of the party's main factions positions that reflect their relative strength.

Koizumi, who assumed the party leadership in April 2001, has bucked that tradition, and instead sought to load the Cabinet with allies or private-sector experts who have no factional allegiance.

Instead of factional support, he has instead relied on his personal appeal.

He remains one of the most popular leaders Japan has seen in decades, though his support has fallen from over 80 percent to around 50 percent in recent weeks.

Koizumi's new Cabinet was also expected to include representatives of the two smaller conservative parties that belong to his governing coalition. Health Minister Chikara Sakaguchi, who belongs to the larger of those two parties, was set to keep his job, media reports said.