Miss Florida Ericka Dunlap wins Miss America pageant
( 2003-09-21 14:56) (Agencies)
Miss Florida Ericka Dunlap beat out 50 rivals Saturday to be crowned Miss America in a pageant that featured some of the brainiest contestants that judges have seen in years.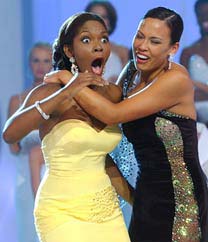 Miss Florida Ericka Dunlap gasps in surprise as her name is announced. First runnerup Miss Hawaii Kanoelani Gibson, right, congratulates her. [AP Photo]
Dunlap wins a rhinestone tiara, a runway walk, US$50,000 in scholarship aid, a yearlong national speaking tour and -- after it -- the permanent tag of "former Miss America."
Miss Hawaii Kanoelani Gibson was first runnerup and Miss Wisconsin Tina Sauerhammer was second runnerup. Miss Maryland Marina Harrison and Miss California Nicole Lamarche rounded out the final five.
When her name was announced, Dunlap gasped, held her hands to her face and exclaimed "Oh, my God" several times.
Dunlap won both the evening gown and the talent portion of the competition, singing "If I Could." She correctly answered five of eight questions on a pop quiz given to the five finalists.
A student at the University of Central Florida, Dunlap plans to promote cultural diversity during her yearlong reign as Miss America.
The daughter of a roofing contractor and a nurse, Dunlap aspires to go to law school when she graduates and become an attorney specializing in sports and entertainment.
Dunlap was crowned by Miss America 2003 Erika Harold, 23, of Urbana, Illinois, who won the title last year after delaying her entry to Harvard Law School.
Dunlap defeated other rivals with impressive academic credentials.
Sauerhammer is already an M.D. at age 22; Miss Virginia Nancy Redd and Miss Rhode Island Laurie Gray, are both recent Harvard University graduates; and Miss New Mexico Rana Jones, is a second-year law student.
Other contestants included Miss Iowa Nicole White, a certified forklift operator, and Miss New York Jessica Lynch, who's no relation to the U.S. Army private captured in Iraq.
While contestants were focusing on their competition, pageant organizers were busy trying to spice up the telecast, which has hemorrhaged viewers in recent years.
This year's pageant included -- for the first time -- a casual wear competition, in which contestants were asked to wear what they would socialize in.
The age-old swimsuit competition, meanwhile, saw the contestants wearing sarongs over their bikini bottoms.
In another twist, pageant viewers were kept informed of who was winning by the show's announcers, who couldn't be heard by the judges or contestants in Boardwalk Hall.
Last year, about 12 million people watched the crowning of Harold, an all-time low.
Among the wrinkles this time around: a "viewing party" hosted by Trista Rehn and Ryan Sutter of the ABC reality show "The Bachelorette" and a live performance by "American Idol" runner-up Clay Aiken.