Foreigners see social graces and disgraces in China
( 2003-09-21 11:01) (Xinhua)
Chinese manners and customs - or the lack of them - often leave foreigners feeling confused about the Chinese character and what is regarded as social or anti- social behavior.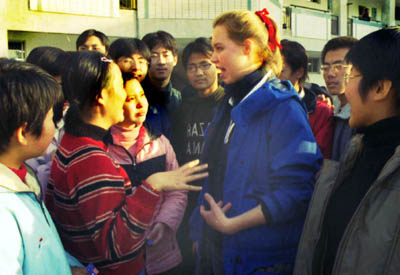 chat at an English corner in Jiangsu

Admiration for hospitality and filial piety is combined with grumbles about disrespect for queues and inconsiderate motorists.

Sven Kirchner, a German intern at the Beijing branch of Siemens, was quite touched by his accommodating Chinese colleagues.

"They are always willing to help me solve any kind of problem. German workmates usually don't have such close and friendly relationships," he said.

Kirchner also felt lucky that whenever he asked a Chinese for a favor, he could always expect a warmhearted answer, no matter where he traveled.

Jenny Leal, an American woman married to a Chinese, had more personal experience of the country's traditional virtues. She considered the Chinese generally had a stronger sense of family than Americans. They were more obligated and closely attached to their relatives.

The Chinese custom of caring for their parents and respecting the elderly was widely praised by foreigners, she said.

"On the whole, Chinese are very helpful and friendly, tending to support each other in all sorts of ways. China has many poor and destitute people, but they are at least aided with food and shelter. I see far more homeless people and beggars in most Western countries than here," said John Macdonald, an Australian who works as a journalist in China.

However, Gregg Wycherley, a New Zealander working for a Chinese media organization, pointed out that individual manners were often forgotten in public, despite Chinese polite and kind behavior in small groups.

Open defiance of queues and lines in crowded cities has been a common annoyance to many foreigners.

"There are always people trying to cut in front of others everywhere in queues waiting to get on a bus, to buy a ticket or to order meals in fast-food restaurants," Wycherley complained.

"People just flood into a subway carriage when the door opens, blocking passengers' way out," Leal said of her experiences waiting for buses, trains or lifts in her two years in China.

Impolite motorists are tarnishing the civility of Beijing, the country's capital, which boasts over 2 million automobiles.

"They don't give way to pedestrians, cyclists and other road users. This is regarded as selfish, rude and downright dangerous in most Western countries," Macdonald said.

Antonio Broto, a 27-year-old Spanish studying at Beijing Language and Culture University, is often bothered by the disrespect for public places. "Phlegm and chewing gum still spot roads. Garbage is thrown away on the streets. Public toilets are smelly and not cleaned with disinfectant," he said.

Gan Shaoping, professor of the Chinese Academy of Social Sciences, said the roots of these problems were closely related to the progress of urbanization.

As more farmers left their rural homes, usually with small populations, and came to the cities with more convenient transport and communications, China's traditional virtues were being challenged by the lack of public consciousness and social duty, Gan said.

Though foreigners view queuing and road courtesy as etiquette matters, the lack of respect for queues and for other road users are real headaches for the government, which is striving to revive the country's moral image to keep up its thousand-year reputation for virtue.

The designation of China's first National Day for Ethics and Etiquette Promotion on Sept. 20 is regarded as an important step in a nationwide campaign to enhance morality along with rising living standards.

However, Wycherley pointed out these were the least of China's ethical problems. Shocked at so many stories of corruption in Chinese newspapers, he believed corrupt officials, despite their low numbers, were seriously harmful to a developing country as they oversee the implementation of laws and regulations.

Leal, once an English teacher at the Daxing Printing Institute in Beijing's southern suburbs, worried about journalistic and academic ethics. She was once mentioned in a news story about an accident she was involved in, but her details were incorrect. It also made her furious to see plagiarism prevailing in students' papers.

"It's dangerous for an opening China. The country's domestic media must conform to international standards when competing with foreign media. Chinese overseas students would surely get in trouble if they did not cite sources properly in their work," Leal said.

In practice, the government has issued a set of guidelines to promote ethical and civil progress among the public, which call on the whole nation to apply moral education to their daily life and work.