Education is key to solving rural problems
( 2003-09-21 08:12) (Xinhua)
The gap between rural and urban education in China is widening, and "vigorous measures" must be taken to improve rural education standards, a Chinese government document says.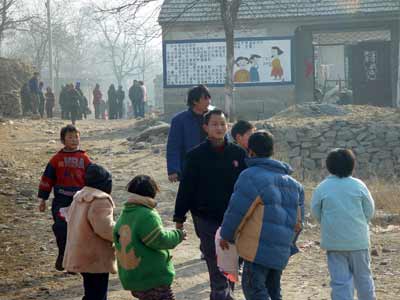 Children in a village in East China's Anhui Province are ready to go to school. [newsphoto.com.cn]
China's State Council issued the full text of its decision to strengthen rural education Saturday, which explicitly defines rural education as the focus of national education policy.
"Rural education serves as the foundation, the driving force and an important factor that influences the overall building of a well-off society in an all-round way," says the official paper, published after the closing of a national conference on rural education convened by the State Council, which ended Friday.
Well-developed rural education will help modernize China's agriculture through raising the expertise of China's 800 million farmers, helping redundant rural laborers become valuable human resources for China's industrialization and urbanization.
It calls for fulfilling the "two basic targets" of universal nine-year compulsory education and eradication of illiteracy among young and middle-aged people in the less developed western regions in five years.
The decision directs the state to divert central funding to rural education. New poverty relief funds from the central and regional governments will be used to support educational causes in poor rural areas.
It also calls for promoting adult education among farmers to improve efficiency of agriculture and farmers' incomes.
More than 100 million farmers will receive education in practical technique each year and more than 20 million farmers will receive orientation courses to prepare them for urban life and non-agricultural business.
The central and regional governments share responsibilities for meeting basic requirements of compulsory education in rural areas. Overall, county-level governments bear the main duties for the administration of compulsory education.
County governments are expected to raise their capabilities to meet expenses for compulsory education through increased central funding. New educational allocations will mainly go to the rural areas.
The paper says a mechanism will be established to ensure that children of poor rural families can go to school. By 2007, children of poor families will all have access to free text books, subsidies for lodging expenses and be exempt from miscellaneous expenses.
The document calls for public donations to education and says the donations will be fully tax deductible.
It also calls for improving the proficiency of rural school teachers and better educational facilities through building a lifelong educational system for teachers and implementing a distance education project in rural primary and high schools.
The decision has set a target of equipping all rural primary high schools with computer classrooms and all rural primary schools with satellite educational program receiving facilities and educational CDs and players in five years.
The People's Daily, China's leading newspaper, hailed the decision as a major move to improve rural education in its editorial to be published Sunday.
It says this is the first time the State Council has ever held a meeting to specially discuss ways to improve rural education since the People's Republic of China was founded in 1949.