Survey: Chinese women changes attitude toward marriage
( 2003-09-21 08:12) (People's Daily)
Many high-income professional women remain single
A survey in Beijing indicates that 50.2 percent of those women with a monthly salary of 5,000--15,000 yuan remain single.
The survey shows that there are five reasons for this: firstly, 48.3 percent of them are economically independent and unnecessary to depend on men; secondly, 6.5 percent are busy with their work; thirdly, 12.2 percent are too outstanding to find superior male partners; fourthly, 23.4 percent distrust the existence of true feelings; fifthly, 9.6 percent for other reasons.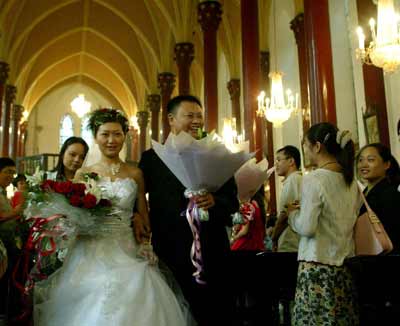 Two lovers hold a western-style marriage ceremony in Beijing September 6, 2003. [newsphoto.com.cn]
Seeing sexual life as important, unafraid of divorce
According to a survey conducted among the women in Chengdu city, Sichuan Province, over 80 percent women surveyed attach importance to the quality of sexual life, the ratio exceeds 95 percent among those with a college education level and above. Relatively speaking, the middle-aged and old people, deeply influenced by traditions, hold the traditional concept of sex.
Change in attitude toward cohabitation
In the 1980s, cohabitation between unmarried man and woman was a shameful act in people's eyes. Nowadays, however, over 80 percent of the women surveyed adopt an indifferent attitude, thinking that it is not necessarily to have a "marriage certificate" as long as a couple love each other.
First-generation daughter raises harsh conditions for choosing spouse
Such conditions include high schooling record, good-looking and a promising future. If one's educational level is very average, he must be rich; if one is not rich and well-educated, he must be handsome, have specialized techniques and be willing to do household chores. When going to the matrimonial agency, these girls are usually accompanied by their parents, and the matrimonial requirements are listed by parents. These young girls have never cared about their own business, and so their parents will not let them decide their own marriage.
Views on child-bearing age
According to the women surveyed, 35.22 percent "thought it bad for women not having given birth to a child before the age of 30 because of their declining physical conditions"; 4.54 percent "thought it bad, because it will be laborious to rear a child later"; 19.31 percent thought what is discussed above is "not a problem at all" and 40.90 percent thought that it is "understandable even if one does not give birth to a child".
Three-members family no longer the main form
The survey indicates that the choice of family form presents the pattern of one decline and three rises, that is, compared with the survey conducted in 1997, the ratio of people choosing a nucleus family (a couple plus a child) drops 11.3 percent, those choosing DINK family, celibacy and directly-related families rise 1.1 percent, 3.9 percent and 6.1 percent respectively.
Young and middle-aged women suffer stimulated insomnia
Nowadays, people suffer more and more serious insomnia. According to a sample survey conducted by the Chinese Academy of Medicine in 2002 about the incidence of insomnia, 35 percent young women in Shanghai suffer insomnia, and the incidence is still rising rapidly.
Gynecological diseases threaten young women
According to the survey about gynecological diseases conducted by the Tianjin Women Healthcare Hospital in 2002 among 16,700 women aged 20-29, 8.3 percent of them contract infectious gynecological diseases, 14.8 percent contract chronic cervicitis, 0.17 percent contract benign tumors, 7.5 percent contract diseases of mammary gland, 0.012 percent contract malignant tumor, 0.06 percent contract venereal diseases. Experts say that more women in a younger average age contract gynecological diseases than ever, but they don't pay enough attention to their own health.
Over 70 percent women encounter sexual harassment
A survey among Beijingers indicates that women are the main objects of sexual harassment. 71 percent of those surveyed have encountered sexual harassment, of whom 54 percent have heard pornographic jokes, 29 percent have the addiction of exposure, 27 percent have experienced unwilling body touch with others, 8 percent have been peeped and 2 percent have received harassment phone.