Flood prevention work in full swing as more rain expected
( 2003-09-20 08:58) (China Daily)
Heavy rain has again hit central part of Northwest China's Shaanxi Province over the past three days, which may lead to more flooding in the Weihe River valley.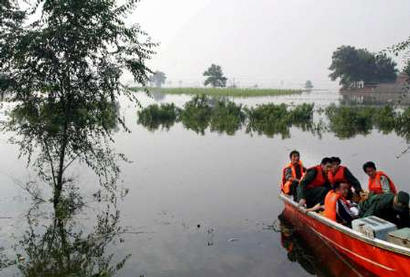 Chinese soldiers patrol through flooded villages near Huayin, in China's central province of Shaanxi, on September 8, 2003. Floods that have killed dozens in Shaanxi and forced half a million people to flee their homes showed no let-up, with a third flood crest sweeping along Weihe, the largest tributary of the Yellow River. [China Photo]

From Wednesday night until Friday, the Weinan Prefecture in eastern Shaanxi, where serious flooding has struck in the past two weeks, was hit by heavy rain. Serious flood prevention work is under way, the provincial flood prevention headquarters said.

The headquarters and local departments concerned had issued notices to every county and district in Weinan urging local governments to pay close attention to the potential for flooding.

"Because the embankment of Weihe, the largest tributary of the Yellow River, had become softer after the soaking it got from the former flood, and the damaged embankment of Weihe's tributaries had not been rebuilt completely, any new flooding will cause disaster if we do not prepare properly,'' the provincial flood prevention headquarters said.

According to weather forecasts, most of Shaanxi can expect rain over the weekend and some parts of the province's central and southern regions, which have suffered from downpours over the past two weeks, will continue to be hit by heavy rain.

While paying great attention to the potential for flooding, the local government is also providing provisions and shelters for the people who have already been struck by disaster, it was revealed at a press conference on Thursday.

At the conference, the provincial government asked all governments and departments concerned at different levels to ensure that all of those suffering from the past flooding have enough food and clothing and are assisted in terms of housing for the coming winter.

And the provincial government also urged the Weinan prefectural government to drain the water from inundated areas quickly, to make sure the autumn sowing can go ahead as usual.

In Weinan, which suffered serious flooding in late August, there are still more than 120,000 people who are living in tents as the temperature is dropping and they are in need of warm clothing for the coming winter, said Cao Lili, mayor of Weinan.

The latest statistics show that from August 24, floods and landslides caused by continuous heavy rain have cost Shaanxi 5.93 billion yuan (US$714.4 million) and killed 64 people. In 81 counties and districts out of its 108, 4.44 million people have suffered from the disaster.