Fudan University denies enrollment of female Taiwanese politician
( 2003-09-19 15:04) (Agencies)
A senior official with Fudan University said Thursday it's improbable for the prestigious university in Shanghai to enroll Chu Mei-Feng, a female Taiwanese politician engaged in a sex video scandal, to its doctorial program.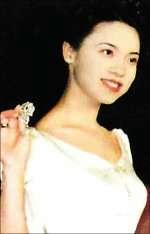 Neither is it possible for Chu ever to get the chance of an interview, usually the second part of a normal doctorial enrollment test following a success in the writing section, added Professor Gu Yunshen, vice dean of Fudan's postgraduate school, because she has failed the exam.
Gu made these remarks in response to recent rampant local media reports that Chu has managed to get admitted to Fudan despite her lower scores than the basic requirement.
"We make the issue public because Fudan doesn't want to get involved in the media wars and hopes the media won't develop any more baseless reports about the issue," he said.
According to Fudan's requirement, a test-sitter for its doctorial program must get a total score above 180 for the three professional courses to get a primary pass for the enrollment. The final result will come after an interview section.
Meanwhile, another Fudan official, who preferred to remain anonymous, said the university will not be forced by the media to recruit Chu as an abnormal case, simply because of her fame.
"That's unfair to other test-sitters," he added.
A Taiwanese politician with the New Party, Chu served as a Taipei city councilor, and then became cultural affairs director of Hsinchu.
She regained the media spotlight in late 2001 for a widely circulated video showing her having sex in her apartment.
The video is taped by mini cameras secretly installed by a former close friend in the apartment.