Former Iraqi Defense Minister surrenders-mediator
( 2003-09-19 15:02) (Agencies)
Iraq's former Defense Minister Sultan Hashim Ahmed, number 27 on Washington's wanted list of former top officials under Saddam Hussein, has surrendered to U.S. forces, a mediator said on Friday.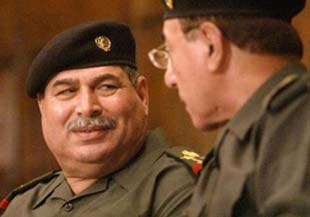 Iraqi Defense Minister Sultan Hashim Ahmad, left, and Iraqi information minister Mohammed Saeed al-Sahhaf during a news conference in a Baghdad hotel in March 23, 2003 file photo. Former Gen. Sultan Hashim Ahmad, Iraq's last defense minister under Saddam Hussein, surrendered to the American general in charge of the north of the country Sept. 19, 2003 after weeks of negotiations, a Kurdish mediator said. [AP]

Dawood Bagistani, a local human rights official who acted as a go-between in talks with Ahmed, told a news conference the ex-minister surrendered at a house in the northern Iraqi city of Mosul and was being taken to Baghdad by U.S. forces.

"At eight o'clock this morning (midnight EDT) Sultan Hashim Ahmed and his family surrendered to coalition forces," he said.

Mosul is where Saddam's sons Uday and Qusay were killed in a gunbattle with U.S. forces in July and Ahmed's surrender may fuel speculation that U.S. troops could be closing in on other top fugitives, perhaps even Saddam himself.

Ahmed was seen by Saddam's side in video footage said to have been shot in Baghdad on April 9 this year -- as the city was overrun by U.S. forces -- of the Iraqi leader waving to cheering crowds in a northern suburb of the capital.

In the 1991 Gulf War, Saddam chose Ahmed to head the Iraqi delegation at cease-fire talks near the border with Kuwait. However, he was regarded largely as a figurehead in the Iraqi armed forces with real control resting with Saddam.

Ahmed is the eight of hearts in a pack of playing cards issued to U.S. troops to help them identify fugitive Iraqi leaders. Saddam himself is the ace of spades.