Beijing turns 850 in style
( 2003-09-19 09:24) (China Daily)
The Beijing municipal government announced plans Thursday to stage a number of activities between September 20 and October 20 for the grand occasion of the 850th anniversary of Beijing as the Chinese capital.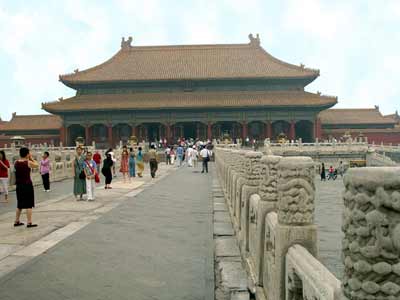 The Forbidden City in downtown Beijing
The celebration is a response to the appeal of a number of famous Chinese scholars, who said it is time for the Chinese capital to look back on the long path and the many ups and downs taken by the city, which have led it to where it is today.
The celebration will start with the official unveiling ceremony of a commemorative jue, a special construction used exclusively before emperor palaces, temples and tombs in ancient China, on September 20. The jue will be located at the relics of the Daan Hall dating back to the Jin Dynasty (1115-1234) in Binhe Park, in southern Beijing's Xuanwu District.
It is believed that Beijing was first chosen as capital of China in the year 1153 during the Jin Dynasty, when it was called Zhongdu. And it is from the Xuanwu District that the city has gradually expanded to become what it is today.
But the long history of ancient Beijing will not only be glimpsed at the ceremony alone.
Shu Xiaofeng, vice-director of the Beijing Municipal Cultural Relics Bureau, disclosed that a park for the ancient city wall of Dadu, which is what Beijing was called when it was the capital of the Yuan Dynasty (1271-1368), will also be opened to public on the same day.
Moreover, a series of exhibitions, including the debut of dozens of valuable historical and cultural relics on the history of Beijing, will also be hold.
Beijing prides itself on being the first capital in the world to host a biennial international fine arts exhibition, announced Liu Dawei, a leading official with the China Fine Arts Association.
According to Liu, the coming Beijing international fine arts biennial exhibition will be staged between September 20 and October 20 at the China Millennium Monument and the China Fine Arts Museum. It is the first State-level activity of its kind in the nation's history.
Altogether, 600-odd masterpieces by over 300 artists of more than 40 countries and regions will be displayed, making it China's largest-ever fine arts exhibition, said Liu.
While a grand parade comprised of 2,400 folk artists from China and a dozen foreign countries, such as Japan, India, Germany, France, United States and Canada, will be staged on October 19 in downtown Beijing, Beijing's vast countryside will be ready to treat guest with beautiful "red leaves," delicious foods and colourful folk activities, said Liu.