China's military chief to visit US next month
( 2003-09-19 06:49) (China Daily)
Defence Minister Cao Gangchuan will visit the United States in the second half of next month,Foreign Ministry spokesman Kong Quan said yesterday in Beijing.

Cao Gangchuan

Kong, declining to say if nuclear issues regarding the Democratic People's Republic of Korea will be on the agenda, said the visit is still under discussion.

Military exchanges between China and the United States play an important part in bilateral relations and are conducive to deepening mutual understanding and expanding consensus, Kong said at the regular news briefing.

"Of course, I think he will also have an opportunity to exchange views with persons in charge of the US military on international and regional matters of mutual concern,'' said Kong.

Kong also noted that China and the United States should properly handle occasional problems and friction in bilateral trade relations.

"Bilateral trade relations will develop in a healthy and stable manner only when the two sides solve the problems through dialogue on the basis of enhanced mutual understanding and trust,'' Kong said.

Kong said Sino-US trade relations are mutually beneficial and the two sides should consult one another on an equal footing and take a pragmatic attitude in solving issues.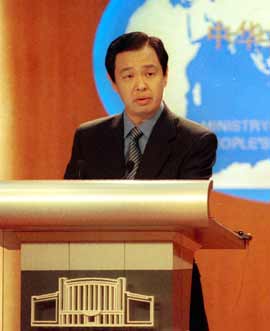 Kong Quan
The United States is now China's second largest trade partner while China is the fourth largest trade partner for the United States.
China's market will further expand now that it is a member of the World Trade Organization and Sino-US trade and economic co-operation will expand and deepen along with that, Kong said.
"We cannot accept the claim that China has not fully honoured its commitments after joining the World Trade Organization,'' Kong said. "The fact is that China has made huge efforts to honour its commitments with a very serious and responsible attitude.''
China has cut its general levels of tariffs from 15.3 per cent in 2001 to the current 12 per cent, abolished some non-tariff measures and gradually promoted the openness of services and goods markets.
Kong said China has reformed its laws and regulations for compliance with WTO requirements and China's commitments and it has set up consultation mechanisms to increase transparency.
In another development, Kong said China and Russia have reached consensus to further expand their co-operation in energy, including the oil pipeline project.
He said the meeting between Chinese premier and Russian prime minister next week will cover such issues.
When asked to comment on the United States veto of a United Nations resolution demanding that Israel not harm or expel Palestinian President Yasser Arafat, the spokesman said that China firmly opposes Israel to expel Arafat or threaten his security in any form.
Kong urged Israeli and Palestinian leaders to seek a political solution.