Japan's war crimes stain pages of history
( 2003-09-19 06:42) (China Daily)
The Japanese Government should acknowledge the nation's war crimes and reach settlements with their victims, an international meeting was told Thursday.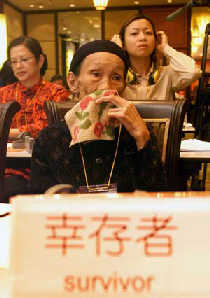 Chen Jinyu, one of the "comfort" women forced to be a sex slave during Japan's invasion of China, Thursday attends a meeting calling on Japan to take responsibility for its invasion of Asian countries. Chen was enslaved at the age of 16 in 1941 until and freed in 1945.[newsphoto.com.cn]

Over 120 people attended the International Symposium on Japanese Responsibilities for its Invasion of Asian Countries in Shanghai. They included lawyers, "comfort" women used as sex slaves, and forced labourers from China, Japan, the Philippines, the Republic of Korea, the Democratic People's Republic of Korea and the United States.

"Half a century has passed since the end of Japanese military aggression. However, the Japanese Government still behaves unreasonably and ignores the feelings of the countries they victimized," said Wang Xuan. Wang is chairwoman of a legal group advising plaintiffs suing Japan for damages over its use of germ warfare.

The plaintiffs' group was founded in 1997 by 180 members, including forced labourers and sex slaves. But over 30 of them have since passed away without seeing much change in the attitude of the Japanese Government, let alone any financial compensation.

"Time is so limited for the aged victims. I hope all organizations and individuals establish active and specific plans to help them obtain an apology and compensation while they are still alive," said Kohken Tsuchiya, leader of the Japanese delegation to the symposium.

Tsuchiya also heads a group of over 200 Japanese lawyers helping Chinese victims of germ warfare conducted by Japan's notorious Unit 731 in China.

An International Solidarity Council Demanding Settlement of Japan's Past has been established to unite groups and individuals working for the rights of victims of Japanese war crimes, according to Japanese representative Ken Arimitsu.

"Their voice must be heard on all possible occasions and in courts throughout Asia and the world," said Barry Fisher, an American lawyer who worked for an organization that successfully sued Germany for its war crimes against the Jews.

In other cities across the country, ceremonies were held Thurday to commemorate the 72nd anniversary of the "September 18th Incident," in which Japanese troops launched a sudden attack on the Chinese army in Shenyang.

In the city of Changchun, seven universities held exhibitions on the event. "I think they will inform students of a history we should never forget," said Zhang Na, a student from Jilin University.