Sex-Reversed Addict
( 2003-09-18 14:42) (Shanghai Star)
Talking into his cell phone, Juan says he's in a meeting. He makes other business calls while he picks out what he's going to wear: a black dress, stockings and high heels.
Juan, who asked that his full name not be used, is part of a group of high-flying Mexican businessmen who meet every week at a special club set up for transvestites where they are free to be women for a time - chatting, playing bingo or having a drink with their "girlfriends".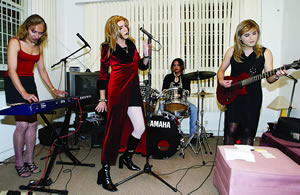 In famously macho Mexico, where 90 per cent of the population is Catholic, such clubs are rare. Juan's club - called "Versus Life Style" - opened last year. To belong to its exclusive circle costs between US$36 and US$93 a month, depending on what services the client wants.
Tania Ganem, of Transvestites Mexico, an organization grouping some 700 transvestites via the Internet, said he knows of such clubs in Spain, Britain, the United States and Argentina but in Mexico there are only two.
Luxury cars and armour-plated Cherokees are a common sight outside the unremarkable building that jealously guards the secret of its temporary occupants.
"I've been dressing up since I was six years old ... When I dress as a woman, I do it to express my emotions and sensitivity, something I can't do as a man," said Juan, a top executive whose wife has no idea where he is.
Many of the men say that, contrary to the public perception of cross-dressing, the practice has nothing to do with homosexuality but is about getting in touch with their feminine side or simply enjoying dressing up.
Inside the house, wigs, carnival masks, out-sized high-heels, fancy lingerie, stockings, cocktail dresses, bridal gowns, school uniforms and fetish wear hang in the main hallway. Here the fantasies of the successful executives take off.
Accessories used at the club like wigs, high latex boots and fake breasts cost between US$200 and US$600. Their high price tag is all they have in common with the Armani and Hugo Boss suits left draped over chairs as the men change into women.
Under club rules, visitors may not come in search of sex or use their male names. Men get into the house either by recommendation or after passing an extensive Internet obstacle course that only genuine transvestites would know how to do.
Owners Rafael and Elizabeth Landin are a heterosexual couple who set up the club three years ago after a man came to their lingerie shop asking for corsets and stockings to dress up in.
Services on offer include special lockers for clothes, manicures and pedicures, maintaining a personal wine cellar and access to special events.
To enter without being a member costs US$129, including rented clothes, wigs, use of make-up and a four-hour stay.
Some like it hot
Shantal, 27, is unusual because she accompanies her husband to the house.
"You look gorgeous!" she told her husband, known in the club by his female name "Anxie", the first time she saw him dressed as a woman.
This unconventional couple was introduced by a friend in common. They have been together for seven years and have two children.
"Anxie", 34, tall, blond with green eyes and parading in a black mini-dress with red velvet coat, admitted that before he met Shantal he thought he would never find a partner. But his whole family knows and accepts his preferences.
"At the start we played with fantasies about a visiting aunt ... My son now boasts 'I taught you to go out dressed up as a girl Daddy,"' said "Anxie", an artist and vocalist of a pop band called "Queen Ass".
"Yazzmin", not his real name, is a 53-year-old director who has been married for 32 years and has four children. He took refuge in the club after more than 20 years of renting the occasional room in a cheap motel so he could dress up as a woman.
For the Landins, the high-point of their business is seeing these men fulfilled.
"The best thing is when they are made up, to see the excitement in their faces as they tell you 'You made me happy', that's my life's dream," said Elizabeth Landin.