Suspect denies Sweden's Lindh slaying
( 2003-09-18 10:13) (Agencies)
The man arrested by Swedish police in connection with last week's murder of Foreign Minister Anna Lindh denied on Wednesday carrying out the attack, his defense lawyer said.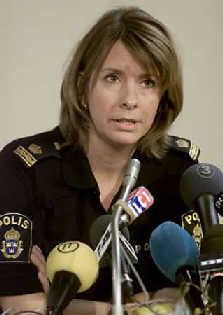 Swedish police spokeswoman Stina Wessling speaks at a press conference in Stockholm, Sept., 2003. Swedish police arrested a man who was suspected of killing Foreign Minister Anna Lindh, Wessling said late Tuesday night. [Reuters]

"I just met my client and during the hearings he said he had nothing to do with the murder of Anna Lindh," Gunnar Falk, the suspect's court-appointed legal counsel, told reporters after his first meeting with the man arrested by police on Tuesday.

Lindh was stabbed on September 10 while out shopping without bodyguards in a central Stockholm department store. She died the next day of her wounds. The murder rekindled memories of the unsolved assassination of Prime Minister Olof Palme in 1986.

Tipped as Sweden's next prime minister, 46-year-old Lindh died just days before Swedes rejected joining the European single currency in a referendum. She campaigned strongly for a yes vote but police have not linked the attack to her pro-euro views.

The suspect's lawyer said the police questioning had lasted for almost two hours. Police have not released the man's name but say the 35-year-old is a chief suspect among up to 10 people they are seeking over Lindh's fatal stabbing.

FLOOD OF TIP-OFFS

Police say the suspect resembles a man caught on security cameras in the department store minutes before Lindh was attacked.

His arrest on Tuesday followed a flood of tip-offs from the public and relatives of the suspect after the pictures were given to the media at the weekend.

Under Swedish law, police can hold a suspect for three days before charges must be filed or a court remands them in custody. In the Lindh murder case, this deadline is on Friday at noon local time, prosecutor Agneta Blidberg, who is also in charge of the still ongoing Palme murder investigation, told a news conference earlier on Wednesday.

Results of tests being made on a sample of the suspect's blood to establish his genetic code, or DNA, are expected on Thursday, Tore Olsson, deputy chief of the forensic lab conducting the tests, told the news conference.

Forensic experts will then check whether the suspect's DNA matches traces found on the knife that killed Lindh. Other tests will be carried out on a baseball cap police believe the killer dropped as he fled the scene.

DNA samples found on the knife have also been sent for laboratory tests in Britain, though obtaining those results may take up to six weeks, Tomas Johansson, a senior Swedish forensic science official, told Reuters.