Fierce fighting erupts in central Gaza Strip
( 2003-09-18 10:10) (Agencies)
Fierce fighting erupted in the central Gaza Strip early on Thursday after Israeli forces surged into a Hamas stronghold in the Nusserat refugee camp in a bid to arrest a Hamas militant.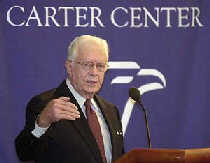 Former U.S. President Jimmy Carter makes remarks at a luncheon following a morning symposium for the 25th anniversary of the Camp David Peace Accords between Israel and Egypt, Sept.17, 2003 in Washington. Carter, a key figure in the 1978 Camp David accords, said peace could be achieved in the Middle East but Palestinian leader Yasser Arafat could not be part of the negotiations. [Reuters]

Palestinian gunmen fired dozens of anti-tank grenades, set off land mines and fired from automatic weapons at the forces as they surrounded the house of a Hamas militant, sparking one of the heaviest gun battles in the Gaza Strip for months.

Helicopter gunships were called in to back-up the Israeli forces and they fired at least two missiles at the building, camp residents said.

An Israeli military official said three soldiers were wounded when they came under "massive fire" during "a pinpoint operation" in the Gaza Strip. One of the soldiers was moderately wounded, the other two were lightly hurt, he said. There were no immediate reports of Palestinian casualties.

The Israeli army has said it would step up operations against Islamic militants in the Gaza Strip after 38 people were killed in a series of suicide bombings in Israel carried out by the militant Hamas group in the past month.

Earlier, Israeli forces raided the outskirts of a refugee camp near the Gaza-Egypt border in an operation the army said was aimed at tunnel networks used to smuggle arms and explosives into the southern Gaza Strip from Egypt.

During the raid, an Islamic Jihad militant was seriously wounded in a disputed incident. A Palestinian hospital official said he suffered serious injuries when tanks fired a round, and that six others were lightly hurt in the incident.

A military source said neither the soldiers nor Palestinian gunmen fired "a shot" during the operation, but that an explosion was heard in the camp and Israeli forces believed that a bomb being prepared by militants exploded prematurely.

The source said the militants were likely wounded in that blast.