Cheaper gas set for residents
( 2003-09-18 07:12) (China Daily)
The government has bowed to pressure and lowered gas prices for the US$5.2 billion west-east natural gas pipeline project.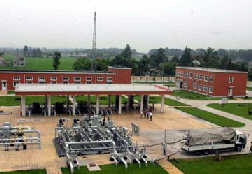 A gas station, which is a part of the west-east natural gas pipeline project, in Southwest China city of Chengdu, is under construction. [newsphoto.com.cn/file]
PetroChina, which owns half the stake in the project, has signed initial gas sales contracts with 19 customers, including a spin-off venture of German petrochemical giant BASF. The non-binding contracts pave the way for PetroChina to finalize legal take-or-pay contracts with customers before the first gas is delivered to Shanghai by the end of the year.
The National Development and Reform Commission, China's top planner, has reduced the average price of gas from the project by 0.02 yuan (24 US cents) per cubic metre to 1.27 yuan (15.3 US cents) per cubic metre, Xinhua News Agency reported yesterday, quoting Zhang Guobao, vice-minister of the commission.
The commission has also set different prices for residential users, industrial users and power plants, it said. Prices for residential users, who are the most willing to pay for clean energy, range from 1.16 yuan (14 US cents) to 1.46 yuan (17.7 US cents) per cubic metre. The price for industrial users, such as chemical companies, is capped at 1.12-1.3 yuan (13.5-15.7 US cents) per cubic metre. Utility companies will pay 1.1-1.2 yuan (13.3-14.5 US cents) per cubic metre.
The price was dropped to attract more customers and secure one of China's largest infrastructure project, second only to the Three Gorges Dam Project.
Consumers had complained the initial price tag of 1.29 yuan (15.6 US cents) per cubic metre for gas supplies was too expensive.
News of the price drop battered shares of PetroChina yesterday on the Hong Kong market, as investors factored in a reduced profit margin for the project.
The company's shares lost 2.86 per cent to close at HK$2.55 (32.7 US cents) yesterday.
PetroChina officials maintain business will not be hurt by the price cut.
"We will not be affected because the initial investment is lower than our earlier assessment and more customers will move in (due to the lower prices),'' said a senior company official, who refused to be identified, in charge of the project.
The 4,000-kilometre west-east gas pipeline aims to carry natural gas from remote desert in the Xinjiang Uygur Autonomous Region to booming Shanghai. It is part of the government's plan to boost the economy of impoverished western regions.
PetroChina said it has completed the eastern section of the project, which runs 1,400 kilometres from Jingbian in West China's Shaanxi Province to Shanghai.
The company is preparing for the trial operation of the eastern section on October 1. It expects to deliver gas to Shanghai in December.
In another development, PetroChina has signed initial sales contracts with 19 customers in Anhui, Henan and Jiangsu provinces, and Shanghai.
Another 16 companies are waiting in the wings.
The 35 companies will likely buy 2.1 billion cubic metres of natural gas from the project in 2004 and 12 billion in 2009.