Venezuelan President cancels trip to US
( 2003-09-17 09:51) (Agencies)
Venezuelan President Hugo Chavez, who faces a referendum challenge from political opponents, has canceled a planned visit to the United States next week that included an address to the U.N. General Assembly, government sources said on Tuesday.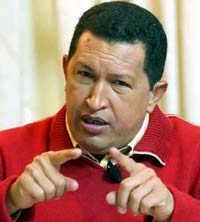 Chavez speaks during his weekly broadcast 'Alo Presidente' in Caracas, Sept. 14. Photo by Reuters (Handout) place in the state oil giant Petroleos de Venezuela (PDVSA), existing export deals were being honored. [Reuters]

Besides the United Nations in New York, the left-wing Venezuelan leader had been planning to visit the Organization of American States in Washington and the oil industry city of Houston in a Sept 25-29 trip.

"He's not going to either Washington or the U.N ... he prefers to concentrate on affairs at home," one government source, who asked not to be identified, told Reuters.

The sources offered no further explanation for the trip cancellation by the populist president, who has traveled widely and enjoys lecturing foreign audiences about his "Bolivarian Revolution" in the world's No. 5 oil exporter.

Chavez, a former paratrooper who was first elected in late 1998 and survived a coup last year, is facing a determined bid by opponents to hold a nationwide referendum on his rule.

Venezuela's National Election Council last Friday rejected as flawed an opposition referendum petition backed by more than 3 million signatures. Opposition leaders plan a second collection of pro-referendum signatures on Oct. 5.

Foes of Chavez say his "revolution" has dragged Venezuela into political chaos and economic ruin. He dismisses them as resentful "oligarchs" trying to defend their wealth and privileges.