Powell: World should have stopped Saddam sooner
( 2003-09-16 11:40) (Agencies)
Secretary of State Colin Powell used a visit to a mass Kurdish grave in northern Iraq Monday to defend the war that ousted Saddam Hussein, and accused Syria of allowing saboteurs to slip over its border.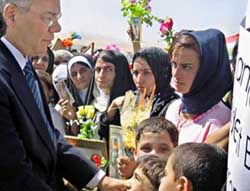 Secretary of State Colin Powell meets with families of victims killed in a March 1988 chemical gas attack, at a memorial built on a mass grave in the northern Iraq town of Halabja Sept. 15, 2003. Powell lit candles for victims of the attack on Iraqi civilians and told their families such an attack would never happen again. [Reuters]

Powell and leaders of Washington's Kurdish allies lit candles at a memorial for 5,000 Iraqi Kurds killed in a 1988 gas attack, which he said showed the world should have acted sooner against the brutal regime of the former Iraqi president.

The United States has often cited the killings in the northern town of Halabja as proof of their accusation that Saddam was developing weapons of mass destruction.

Powell, the second top U.S. official to visit Iraq since U.S.-led forces ousted Saddam in April, heard high praise from Kurds in the north, where U.S. occupiers enjoy a sympathy denied them in Sunni areas to the south.

Underlining the sharp differences in how U.S. troops and their allies have been received, unknown attackers shot dead the local chief of Iraq's U.S.-backed police force in Khaldiya, a town west of Baghdad in the U.S.-labeled "Sunni Triangle," where resistance to the American-led occupation is strongest.

Just hours after Powell's arrival in Halabja by helicopter, a U.S. soldier was killed in Baghdad, the 73rd victim of a guerrilla war that broke out after President Bush declared major combat over on May 1.

Kurdish thanks will be gratefully received by Bush, whose conduct of the occupation is coming under growing criticism at home and on the international stage.

During a brief stopover in Kuwait on his way home from Iraq, Powell accused Syria of not doing enough to end what he said was its support of "terrorist activity," including cross-border infiltration by saboteurs into Iraq.

WARNING TO SYRIA

"I made it clear to the Syrians that to have good relations with the United States and with a liberated Iraq, they should do everything they could to make sure that the wrong sorts of people are not crossing the border to cause trouble in Iraq."

The United States has often cited Iraq's weapons like those used in Halabja, as well as other chemical, biological and nuclear arms, as the motive to invade Iraq. No such weapons have been found since the war ended and U.S. occupation began.

"What can I tell you? I cannot tell you that the world should have acted sooner. You know that," Powell told a crowd of several hundred Kurdish families.

"What I can tell you is that what happened here in 1988 is never going to happen again," he said at the site, where about 1,000 identical gravestones are inscribed with the names of victims and Kurdish flags are posted before each grave.

The attack on Halabja took place toward the end of the Iran-Iraq war, at a time when Washington was sharing intelligence with Iraq and was anxious to save Iraq from defeat.

The United States did not protest when reports of the attack emerged through Iran. But after the 1991 Gulf War, it wrested control of mainly Kurdish northern Iraq from Baghdad.

Powell said Ali Hassan al-Majid, the Iraqi general blamed for the attack and widely known as Chemical Ali, would stay in jail until an Iraqi court decided his fate and said the former president would also be caught.

"Saddam is running and hiding. He is going to keep running or hiding until we catch him or he dies," he said.

PRAISE FOR UNITED STATES

Jalal Talabani of the Patriotic Union of Kurdistan, speaking to relatives of the victims at the mass grave, offered rare public words of praise for the United States.

"I'm proud that now after so many years of loneliness in our struggle we have friends in you," he told Powell.

Talabani and Masoud Barzani, the head of the Kurdish Democratic Party, are among five Kurdish representatives on the 25-member Iraqi Governing Council, established in July.

In Saddam's home town Monday, U.S. forces hand-picked Iraqis to choose an interim council for the surrounding region in a ballot simultaneously hailed as a step toward democracy and assailed as a pantomime.

U.S. commanders called the election in Tikrit a breakthrough for an area steeped in anti-American resistance, but critics reviled it as a piece of theater because its participants and results were vetted by U.S. officers and a U.S.-appointed governor retains ultimate decision-making power.

Nations led by France, demanding a stronger role for Iraqis, have so far rejected Washington's draft U.N. resolution to broaden international involvement in Iraq.

But Powell dismissed pressure Sunday for a swift handover to an Iraqi administration.

"We can't just say 'you are a government, fine, go, you have full authority'," Powell told a Baghdad news conference.