U.S. calls for U.N. force for Liberia
( 2003-09-16 11:15) (Agencies)
The United States called Monday for the United Nations to send as many as 15,000 peacekeepers and 900 police officers to Liberia to help restore peace and start rebuilding the battered West African nation.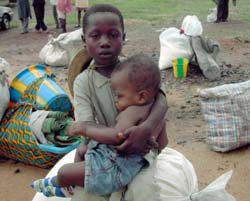 Two Liberian children huddle together as they return to the Jah Tondo camp outside Monrovia, Sept. 15, 2003. Hundreds of Librerians who have been living in school buildings, and other public places in Monrovia for the past three months are now being returned to their camps outside Monrovia as more peacekeepers are deployed in the troubled West African country. [AP]

The U.S. draft resolution circulated to Security Council members asks Secretary-General Kofi Annan to transfer authority to a new U.N. peacekeeping force in October. A Nigerian-led West African force has been in the country since early August, bringing calm to the capital after nearly three months of fighting that killed more than 1,000 civilians.

The draft, obtained by The Associated Press, would give the U.N. force a broad mandate to help implement a June 17 cease-fire agreement, assist Liberia's new transitional government, facilitate the delivery of humanitarian aid, protect U.N. staff, and disarm combatants and retrain them for civilian life. It also would send civilian staff.

The council was scheduled to receive an open briefing Tuesday on Liberia.

The Security Council authorized a two-month deployment for a 3,250-strong West African force to help end fighting between forces loyal to warlord-turned-President Charles Taylor and rebels battling since 1999 to oust him.

Taylor went into exile in Nigeria on Aug. 11, and a power-sharing government will be installed Oct. 14, leading to democratic elections in 2005.

Despite promises from all combatants to avoid violence, however, armed gangs allied to the government and the rebels have been looting villages.

The U.N. Mission in Liberia, known as UNMIL, which would take over from the West Africans under the proposed U.S. resolution, would be authorized for a year and consist of "up to 15,000 United Nations military personnel, including up to 250 military observers, and up to 900 civilian police officers, and a civilian component."

The draft resolution declares "that the situation in Liberia continues to constitute a threat to international peace and security, to stability in the West Africa subregion, and to the peace process for Liberia."

It condemns the continued fighting and calls on all parties "to immediately cease hostilities" and abide by the cease-fire and peace agreements. It demands that all countries prevent armed groups from further destabilizing Liberia and neighboring Guinea and Sierra Leone.

It also expresses alarm "at the dire consequences of the prolonged conflict for the civilian population throughout the territory of Liberia."

The resolution would welcome the appointment of Jacques Klein as Annan's envoy for Liberia and put him in charge of the U.N. mission. Klein predicted Friday a long haul in helping the country back onto its feet and called for generous contributions to rebuild the devastated country.