Expert: More imports from US 'a way out'
( 2003-09-16 09:19) (China Daily)
Chinese economic researchers are urging more imports from the United States as part of efforts to stave off a potential trade war with the country's major trading partner and largest export market.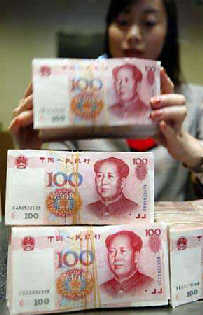 A Chinese teller stacks 100 yuan notes at a foreign bank in Shanghai, September 3, 2003. [Reuters]
They said taking positive steps to narrow the widening US-China trade gap would be "a reasonable way" to ease mounting pressure for a yuan appreciation.
The strategic call came amid a high-profile move by a bipartisan group of US senators last week to introduce legislation that would impose an across-the-board 27.5 per cent tariff on US imports of Chinese products.
The bill aims to pressure China to revalue its currency following Beijing's rejection of calls for speedy revaluation.
Professor Hai Wen, deputy director of the China Centre for Economic Research at Peking University, said some US legislators have been leading the American demand for a stronger yuan, partially out of political considerations.
"With the US presidential elections approaching, they are very likely to keep placing the yuan issue at the forefront of the political agenda," the professor said.
But he cautioned that China cannot turn a deaf ear to US demands despite its determination to defend the stability of the yuan.
"The American demand (for a yuan revaluation) is, after all, a reflection of interests of some domestic groups such as the manufacturers," Hai said.
US manufacturers claim that the country lost 2.6 million manufacturing jobs since March 2001, in part because of an unfair price advantage enjoyed by Chinese exporters because of an "undervalued" yuan.
The Chinese side, however, insists that the price advantage is mainly based on cheap labour costs and not an undervalued currency.
Professor Hai stressed that allowing the yuan to rise would not necessarily solve American economic problems; and it would be much wiser to directly reduce the growing US trade deficit with China.
"The Chinese side can make more efforts to find a solution by increasing imports from the United States rather than reducing Chinese exports," he noted.
The US trade deficit with China jumped 13.5 per cent to a record US$11.34 billion in July from US$9.99 billion in June while imports from China totalled US$13.4 billion in July, a monthly high.
With the US trade deficit vis-a-vis China last year amounting to US$103 billion - the biggest deficit America had with any single country - the yuan's narrow trading range against the greenback of 8.28 has been blamed for the yawning trade gap.
Because the yuan revaluation issue boils down to a trade dispute between Beijing and Washington, China should take substantial steps to curb the growing deficit, according to Professor Chen Yulu, vice-president of the School of Finance at Renmin University of China.
The professor said whether the Chinese Government can manage to quickly solve the trade deficit problem will, to a large degree, affect Washington's attitude towards the yuan issue.
Despite heavy domestic political pressure, the George W. Bush administration has so far acted cautiously in not pressing too hard for Beijing to alter the yuan policy.
While winding up a two-day China visit this month, US Treasury Secretary John Snow even said he was encouraged by the country's pledge to move towards a more flexible currency regime.
At the Asia-Pacific Economic Co-operation forum earlier, Snow reportedly said Washington would not impose retaliatory tariffs on Chinese goods because the country was important trade partner of the United States.
But trade experts widely believe the Bush administration may depart from its current moderation and toughen its stance ahead of the 2004 presidential elections.