Survey: Fewer plan to buy homes
( 2003-09-16 09:13) (eastday.com)
It may be time for the country's housing and auto sectors to begin cooling off, according to a recent survey by the People's Bank of China, which suggests a growing number of Chinese people are more interested in building up their savings than going on a shopping spree.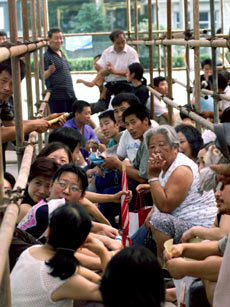 People are queuing up for certificates issued to buy cheap housing. [newsphoto.com.cn]

The bank's third quarterly survey of 20,000 depositors in 50 mainland cities this year, found that 34.7 percent of respondents plan to put their money into bank accounts, a rise of 3.4 percentage points from a year ago, the PBOC announced yesterday.

"The will (to save) is the strongest in history," said the Chinese central bank in a statement.

Currently, the benchmark one-year interest rate on renminbi-denominated bank deposits stands at 1.98 percent, a standard welcomed by a growing number of survey respondents.

The survey, which was conducted in August, suggests that 28.2 percent of depositors are satisfied with the interest rates, compared with only 20.8 percent in the first quarter of 2000.

About 70 percent of those surveyed complained that interest rates are too low, down from 77.9 percent in the first quarter of 2000.

The survey also indicates fewer people are looking to buy new homes and cars.

Only 21.7 percent of those surveyed said they plan to buy a new home within the next three months, down 0.4 percent from the third quarter, while 9.4 percent said they will buy a car, a drop of 1.2 percent from three months ago.

"Mainland residents were less satisfied with commodity prices in the third quarter than they were a quarter earlier and they are expecting an upswing in prices in the following months," said the central bank in its statement.

The PBOC's price satisfaction index, which measures consumer response to the cost of cars, homes, food and clothing, dropped to 11.9 in the third quarter, down 3.1 from three months earlier.

China's consumer prices rose in August at their fastest pace in four months, the National Bureau of Statistics reported yesterday.

The country's CPI, which measures the prices of goods and services, increased 0.9 percent last month, due mainly to rising food and housing prices, researchers noted.

In August, food prices climbed 2.2 percent from a year earlier.

"In comparison, the manufacturing sector remains lackluster," said Chen Jianhao, a researcher at the Shanghai Academy of Social Sciences.

The prices for some industrial products continued to fall due to cutthroat competition.

The prices of telecommunication products such as mobile phones plunged 18.1 percent in August, while vehicle prices fell 4 percent.

"The continual price declines for manufactured products may be welcomed by consumers but will hurt the manufacturers' interests," Chen said. "In the long run, they will have to cut jobs to remain profitable."