US autoworkers strike deal with Chrysler
( 2003-09-15 14:59) (Agencies)
The United Auto Workers announced a tentative contract agreement on Monday with the Chrysler arm of DaimlerChrysler but said it was still in talks to strike new labor pacts with General Motors Corp. and Ford Motor Co.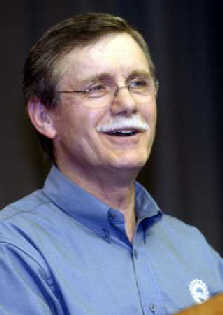 United Auto Workers President Ron Gettelfinger leaves a news conference early Sept. 15, 2003 in Detroit. The United Auto Workers (UAW) union said on Monday it reached a tentative deal with DaimlerChrysler AG's Chrysler arm, and it was still negotiating with Detroit's other auto makers and large suppliers. [Reuters]

UAW President Ron Gettlefinger had been expected to announce new four-year contracts with all three of the Detroit automakers, and with auto parts suppliers Delphi Corp. and Visteon Corp. at a news conference called late Sunday night, according to one union source.

But an official at one of the Detroit-based car companies said the multilateral deal, which would have been a first of its kind in the U.S. auto industry, fell through after a much-delayed news conference was set to begin at about 10:30 p.m. EDT/0230 GMT. It was organized by the UAW's media department just before a midnight deadline for the expiration of existing contracts between the Big Three and the union.

"Something happened at the last minute," the official told Reuters, adding that "everyone was supposedly set to sign off on this."

Gettelfinger did not confirm a deal with the others had fallen apart, but said he hoped to get agreements with GM and Ford, patterned after the tentative contract with Chrysler, wrapped up soon.

"Our bargaining committees are continuing to work extremely hard," he said.

"We've got a lot of issues, difficult issues that are on the table," he added. "We'll stick with them until we get them resolved, that's what we do for a living."

Pending agreements with GM and Ford, the world's two largest automakers, Gettelfinger said their existing contracts would be extended on a provisional basis.

Company and union sources have said for weeks that the UAW and all of Detroit's automakers were driving to settle their contracts early as a signal of a new level of cooperation against inroads by foreign automakers running nonunion plants in the United States.

HEALTH CARE SNAG

An industry source who has monitored the negotiations closely told Reuters over the weekend that the three-pronged talks hit more than one snag, however, especially over demands from GM that UAW members' co-payments for prescription drugs rise sharply, to as much as $15 -- more than double the current rate -- on brand-name drugs.

Gettelfinger has made health care the centerpiece of his public comments on the negotiations, vowing no concessions on the generous benefits UAW members receive. He told reporters on Saturday that the union was fighting to retain or even improve its medical benefits for its 302,500 active workers and 475,230 retirees and family members.

At the news conference, both Gettelfinger and John Franciosi, the chief contract negotiator for Chrysler, declined to say whether the UAW had ceded any ground on health care.

But Gettelfinger suggested the deal with Chrysler, which he said would only be made public after the union's rank and file approve it, was better than anything he had seen so far from its crosstown rivals.

"DaimlerChrysler emerged as the company where we thought we could get the best deal for our active and retired members," he said.