Chinese experts warn against return of SARS
( 2003-09-14 09:39) (Xinhua)
Medical experts at a symposium on the prevention of severe acute respiratory syndrome (SARS) Saturday warned people against the re-emergence of the disease, days after Singapore reported a new case of the flu-like epidemic.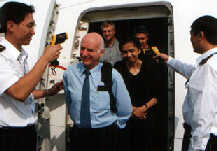 Airport staff check passengers' temperatures on flight SQ802 from Singapore upon its arrival at Beijing Capital International Airport, September 11, 2003. China is doubling its efforts to avoid a possible resurgence of SARS, training scores of doctors and nurses, upgrading hospital surveillance and dispelling rampant rumors. [newsphoto.com.cn]
Over 800 medical experts from the Chinese mainland, Hong Kong and Macao convened over the weekends in Guangzhou, capital of south China's Guangdong Province, to share their perceptions on the epidemic, which swept over the world in the first half of this year, killing over 900 people and sickening over 8,400.
Ni Daxin, an expert from the China Disease Control Center, said that as an epidemic, SARS could reappear.
People might possibly face an attack of the disease this autumn or next spring, and governments and people should be well prepared for the possible reappearance, Ni said.
However, Ni said people should not panic as long as effective measures are taken in the prevention and control of the spread of the epidemic.
Experts agreed that the diagnosis of SARS is still a hard problem. As a single method cannot ward off misdiagnosis, experts suggested more than one test be employed to make sure the diagnosis was correct.
Though medical scientists in Guangdong have made some progress in the search for a vaccine against SARS, Zhong Nanshan, an expert at respiratory disease in the province and academician of the Chinese Academy of Engineering, said that it has not yet been tested on people.
But he said a trial vaccine could be used if SARS breaks out again.
Zhong, who played a leading role in China in determining that the coronavirus was the cause of SARS, said SARS patients could avoid being re-infected, at least within six months, as they usually developed very strong antibodies after the first infection.
Zhong said that he made the conclusion upon his follow-up investigation on over 60 SARS patients.