Li Ning: anything is possible
( 2003-09-13 08:48) (Agencies)
Li Ning's Profile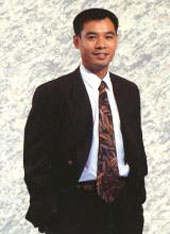 Li was born on October 3, 1963, in Liuzhou. He began gymnastics and was coached by Zhang Jian. A winner of 3 gold medals at the 1984 Olympic Games -- and two-time World Cup AA champion -- Li was expected to win more Olympic medals at the 1988 Games. Unfortunately, he injured his ankle during the team competition.
Li is now a successful businessman in China. In 1989, he initiated the "Li-Ning" sports product brand. Li Ning Sports Goods Co. now has 450 stores in China, and sponsored some French and Chinese athletes at the '00 Olympics. Sticking to the spirit of "from sports and to sports", Li Ning has been supporting the sports causes at home and abroad.
Li and his wife Chen Yongyan (who placed 10th all-around at the '83 world championships and eighth all-around at the '84 Olympics) have a son. In 2000, Li was inducted into the International Gymnastics Hall of Fame.
Li Ning's Sports Career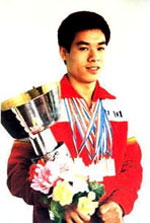 Li Ning, a famous gymnast, one of the most outstanding athletes in the 20th century, the founder of Beijing Li-Ning Sports Goods Co., an innovatory entrepreneur, and an earnest student.

He began the training in gymnastics at the age of seven and entered the State's Gymnastic Team at 17. In 1989, when he was 26, he left his be-loved competition arena. In his 19-year sports career, Li Ning won 106 gold medals in gymnastic competitions at home and abroad.
In the Sixth World Cup Gymnastic Competition in 1982, he won six of the seven gold medals for men and created a legend in the world's gymnastic history and was awarded as the "Prince of Gymnastics".

In the 23rd Los Angeles Olympic Games in 1984, Li Ning won three gold medals, two silver medals and one copper medal, being the athlete winning the most medals in the Games.
In 1987, Li Ning became the only Asian member of Athlete Commission of IOC.
In 1999, Li Ning was elected as one of the "World's Most Excellent Athletes in the 20th Century" by the World Sports Correspondent Association. The other 24 elected sports stars included Boxing King Arly, Football King Belly, and Flying Man Jordan.

Medal Total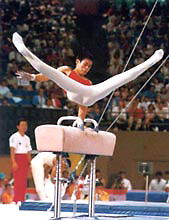 1982 and 1986 World Cup AA Champion
1982 and 1986 Asian Games AA Champion
Olympics: 3 Gold, 1 Silver, 1 Bronze
World Championships: 2 Gold, 5 Silver, 4 Bronze
World Cup: 9 Gold, 2 Bronze
In 1989, he initiated the "Li-Ning" sports product brand. Sticking to the spirit of "from sports and to sports", Li Ning has been supporting the sports causes at home and abroad. He often tells his employees, "Becoming a world champion is everybody's dream. I have realized it. While becoming a successful entrepreneur is my dream. It depends on everyone of you."
Li Ning is studying in Peking University and reading for Bachelor of Laws and Master of Business Administration.
Li Ning's Business Career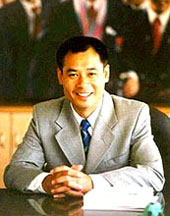 When Li Ning, China's "Prince of Gymnastics" retired from competitive sports in 1988 and joined the business world, he set off his journey to building a household name for sports products that outdo foreign brands in China.
According to the Hong Kong Trade Development Council (TDC), which provides business and trade information to Hong Kong's business people, the Li Ning Group, founded by Li, who won a total of 106 medals, including six golds, is the most successful home-grown sporting goods enterprise in China with 600,000 stores-within-stores and over 2,000 sales outlets in 90 percent of mainland cities.
The latest edition of US-published China Economic Review quoted the remarks by Guy Horne, the director of sports rights at IEC in Sports - a Swedish-based sports public relations business that endeavors to identify commercial values connected to television and sporting events.
Horne said Li Ning is now the top sports brand on China's mainland, which sells 50 percent more in revenue terms than Nike, which is the number two, with Adidas, a close third and other brands far behind.
Nene Leung, founder of Champion Projects sports consultancy, said Li Ning is perceived by Chinese consumers as a down-to-earth, value-for-money brand, with the likes of Nike and Adidas being regarded as premium designer labels.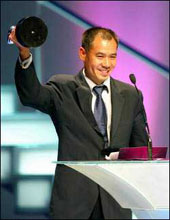 "The market landscape is polarized between Li Ning as the volume leader, while Nike and Adidas are the value leaders," he said.
Horne added that when Nike retails its footwear at 80 to 150 US dollars, Li sells similar products at 32 dollars.
The Li Ning group, established in 1990, has now developed a large number of lines, supplying casual wear, shoes, leather goods, neckties and gifts as well.
Li's success has also encouraged a number of former and current Chinese sports stars, who followed suit in setting up their own brands. Table tennis players such as Deng Yaping, Kong Linghui and Liu Guoliang are some of the examples.
According to the TDC, while one Li Ning product is now "sold every 10 seconds, the group is netting billions of yuan in annual turnover."
Commenting on sports consumption on the Chinese mainland, the 2002 Sport Business Group report entitled "China: Opportunities in the Business of Sport", remarked that China is starting to shift towards a more consumer-oriented society.
"Sports consumption is growing too as the younger affluent and professional groups demand more recognized brands and more sports entertainment," he said.
The report pointed out that such consumption will also provide favorable condition and a driving force for the successful hosting, management and commercial support of sports events to be staged in China.
"Recent events suggested indicators. The 2001 World University Games in Beijing were applauded as the 'best ever', and the 9th National Games in Guangdong that year were the most successful in this event for sponsorship, advertising and brand exposure."
"By the end of 2002, the strategic direction and plans for a long haul to the 2008 Olympic Games will have been shaped," it predicted.
Meaning of the Li-Ning Logo:


Anything is possible

It is comprised by the transformed "L" and "N", the initial letters of Chinese Pinyin "LI" and "NING". / Main color is red. / The shape is vivid, exquisite, beautiful, dynamic and modern. It fully expresses the vitality and enterprising implicated in the sports brand.
Symbolizing meaning of the Li-Ning Logo
flying red flag ---- youth
flaming torch-- passion
moving rhythm-- vitality