Shanghai to limit tall buildings
( 2003-09-13 08:46) (China Daily)
The Shanghai Municipal People's Congress will modify the city's urban-planning regulations within the next month to limit the number of tall buildings, said a member of the congress standing committee.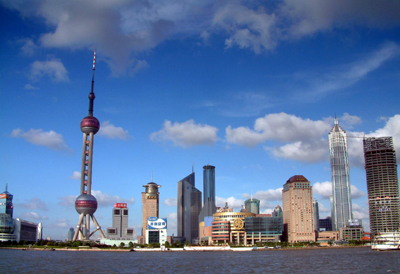 Guan Zhuangmin, who is also chairman of the congress' Urban Construction and Environmental Protection Committee, said: "The excessive development of tall buildings in downtown Shanghai worsens the city's image and goes against its long-term goal of becoming a pleasant place in which to both live and work.''
Tall buildings have been mushrooming as a result of the renovation of old urban areas, particularly in the last five years.
By the end of last year, there were 4,916 tall buildings (of eight floors or more) in the city, according to the Shanghai Municipal Housing, Land and Resources Bureau. Of those, around 2,800 had more than 18 floors.
By the end of June this year, another 2,000 buildings with more than 18 floors were either under construction or in the planning stage.
The congestion of tall buildings in the limited central area has had a negative effect in the city, according to the Shanghai Municipal Urban Planning Bureau.
Guan said an important task for the municipality for the rest of this year is to control the number of tall buildings.
Many historical buildings in old urban areas have been demolished to make room for modern tall buildings.
The concentration of tall buildings blocks the wind and the view and has been shown to depress people.
"The case of Amoy Gardens in Hong Kong during the SARS outbreak has warned us how vulnerable a place with a dense population is when faced with an epidemic disease,'' Guan said.
In addition to weakening the city's capacity to fight fires, typhoons and the heat, the excessive construction of tall buildings has also been identified as having contributed 30 per cent to the city's subsidence since 1990.
The Lujiazui financial area along the Huangpu River in the district of Pudong, which has a high concentration of skyscrapers, is sinking by between 12 and 15 millimetres a year and the trend does not seem to be slowing.