Carmakers see future in China
( 2003-09-12 15:23) (New York Times)
Canvass the top executives at the Frankfurt International Motor Show about what gives them hope for their industry's future, and the answer is the same: China.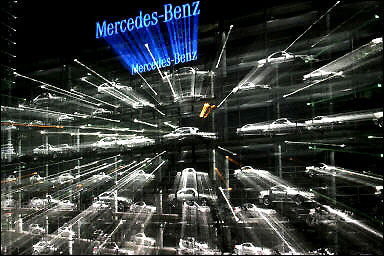 New Mercedes Benz vehicles stand in a show room of the DaimlerChrysler branch in Munich. DaimlerChrysler is set to sign a joint venture deal with Chinese manufacturer BAIC to build Mercedes vehicles in China. [AFP]

With their home countries in the doldrums, and the outlook for 2004 scarcely better, the eyes of the world's automakers are fixed firmly on the Chinese market, where sales of cars and trucks are rocketing.

"Growth in China is absolutely amazing," G. Richard Wagoner, the chairman of General Motors, said here Wednesday. "The Volkswagen brand sold more vehicles during the first quarter of 2003 in China than they did in Germany," he said. "Last month, GM sold more vehicles in China than we did in Germany."

To understand what that means, consider that GM owns one of Germany's major car companies, Adam Opel.

Wagoner's theme was echoed by DaimlerChrysler's chief executive, Jščrgen Schrempp, who increasingly regards China as the cure to what ails his trans-Atlantic colossus. And China is top of mind for BMW's chairman, Helmut Panke, who likened his company's foray there to its landmark decision to open an assembly plant in Spartanburg, South Carolina, in 1994.

It is easy to understand what is fueling the euphoria over China. Automobile sales in China are growing at an annual rate of more than 50 percent, compared to about 3 percent in the United States and Europe.

By 2013, Schrempp predicted, China will be the world's second-largest car market, after the United States, with 8 percent of global sales. In trucks, where it already accounts for a quarter of worldwide demand, China will be the world's largest market within a decade.

"The auto industry certainly hopes that China will be the cavalry pouring over the hilltop, with bugles blaring," said Garel Rhys, the director of the automotive industry research institute at Cardiff University in Wales.

But, he added, "the industry would be very foolish if they thought China was the answer to all their problems."

Rhys said the euphoria masked a range of potential threats: a glut of foreign carmakers entering China, the lack of a genuine used-car market, the development of consumer credit in a country with debt-laden banks, and the simple question of whether torrid growth in China is inevitable.

"In 1976, it was confidently predicted that Brazil would be an eight-million-car-a-year market by 1996," he said. "It didn't happen."

As with the makers of products from laundry detergent to cellphones, car manufacturers look at China and see a burgeoning middle class of perhaps 400 million people, with rising incomes and a taste for consumer products. Bayerische Motoren Werke's new assembly plant in Shenyang, in northeastern China, will be equipped to turn out 30,000 5-series sedans per year. Chinese drivers, Panke noted, tend to favor cars with the most powerful engines. He expects China to become BMW's best market for 12-cylinder engines.

DaimlerChrysler signed an agreement Monday to produce its Mercedes-Benz C-class and E-class cars with a Chinese partner, Beijing Automotive Industry Holding. Mercedes also has a thriving business in China importing its top-of-the-line S-class sedans.

Indeed, DaimlerChrysler, like other foreign investors, wants Chinese officials to drop a regulation that requires carmakers to maintain separate distribution channels for imported and domestically made cars.

"Does it make sense to have separate sales channels for S-class and the C- and E-class? Absolutely not," said Eckhard Cordes, a DaimlerChrysler executive who helped negotiate the China venture. He said he was confident the government would ultimately drop the requirement. DaimlerChrysler's investment in trucks in China may prove as important as its venture in cars. It agreed to buy a stake in Beiqi Futian, a truckmaker controlled by Beijing Automotive. The venture, Cordes said, would allow DaimlerChrysler to produce a full range of commercial vehicles, from Futian's simple trucks to Mercedes's sophisticated ones. As China's economy develops, he expects buyers to gravitate to the Mercedes end of the market. "The trucks you see today in China are the trucks we made 30 or 40 years ago," he said. To some extent, DaimlerChrysler is playing catch-up in China. Most of the global carmakers already have joint ventures there. Volkswagen, an early entrant, controls nearly half the Chinese passenger car market, and is well represented in the luxury range by its Audi brand. GM, which has a factory in the Pudong industrial park near Shanghai, has had success selling its Buick Regal sedan to Communist Party officials and executives at state-run enterprises.

Even Rolls-Royce, the venerable British carmaker now owned by BMW, has set up dealers in Beijing, Shanghai and the southern city of Guangzhou to handle sales of its new Phantom, which retails for $330,000.

Not every company is joining the eastward march. Renault, the French carmaker, is content to sit on the sidelines for now. Its chairman, Louis Schweitzer, said at the auto show that he would decide by next spring whether to undertake a major China investment. Renault has a big presence in Asia through its 44 percent stake in Nissan Motor of Japan. But it has struggled in other countries, notably Brazil. And China is every bit as crowded as Brazil. "With everyone rushing into China, there's not a lot of visibility right now," Schweitzer said.

Go to Another Section
Article Tools