Comment: US should look before leap
( 2003-09-12 14:29) (China Daily)
A group of US senators said on Tuesday they would push for tariffs on imports from China if the Chinese Government does not take steps to float its currency.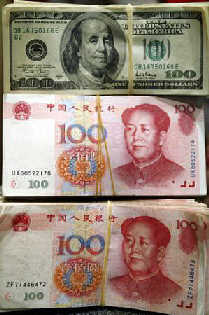 A stack of US$100 notes and 100 yuan notes at a foreign bank in Shanghai, September 3, 2003. [Reuters]
It's a "shot across the bow," claimed Senator Jim Bunni.
Under the proposed bill, Chinese goods would face a 27.5 per cent tariff in the United States, and China would lose its special trading status.
Their action sends a message that some in the United States are leaving reason behind on the yuan issue.
Such a bill, if passed, would lead bilateral trade nowhere.
In response to international concerns, the Chinese Government and banking officials have made their views and position clear. They have illustrated a stable yuan is good for both the Chinese and world economies including the US.
Authoritative organs including the World Bank and the International Monetary Fund support China's stand. They do not favour hasty steps along the road to a deregulation of the yuan in the world markets.
The US senators argue a "devalued" yuan has caused job losses in their country's manufacturing sector.
China understands there will be different views on its currency policy. It is open and ready to hold talks with relevant parties on this issue, and it believes a solution can only be attained through consultation and talks.
The recent high-level talks with US Treasury Secretary John Snow in China serves as a good example of constructive dialogue and provides experiences for reference.
But one meeting cannot sort all things out. The two sides should adopt a pragmatic attitude and hold further consultation on the issue.
An unwarranted unilateral action to impose punitive tariffs on Chinese goods, however, is not a wise choice.
If China becomes subject to such discriminatory and unfair treatment, it will be justified in retaliating.
Given the scale of imports and exports between the two countries, a trade war is the last thing either sides wants.
It would not only cause great losses to both nations, but also strike a heavy blow against a world economy still reeling from recessions.
The senators may need to think again before taking a dangerous step.