If you love me, love my dog
( 2003-09-12 09:53) (China Daily)
It may be miserable to be a dog lover in China, said Jiang Yong, a freelance photographer, but it's even more miserable to be a dog.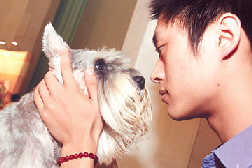 A visitor to the international pets exhibition held recently in Shanghai gazes at one of the canine competitors. [Reuters]
"Every time I see people holding their dogs on the street, I worry about them," he said. According to present regulations in Shanghai, people are not allowed to walk their dogs on the streets. Sometimes the police move in and seize the pets.
"They use huge dog 'pinchers' to grab dogs and pile their 'harvest' in one cage," Jiang said. One of his adopted stray dogs was caught by the police last year near a pet hospital.
"The dog had had broken a leg a few weeks before and those people just pulled its legs," said Jiang. "I was so afraid that they would break it again."
The Public Security Department of the Shanghai Police is responsible for enforcing the laws about pets in the city. They have a so-called "dog-catching" team, which Jiang described as "vicious and unreasonable".
"In order to fill their work quota, these people wait at the gate of pet hospitals and catch dogs," said a vet who declined to disclose his name.
The "dog-catching team" even broke into the vet's pet hospital near the Gubei area and took away 13 dogs. "Some of the dogs were having transfusions and these people just pulled the tube out and took the sick dog away," said the vet.
Their reason for making such a move was that, the dogs did not have a "licence". "But the hospital can't refuse to treat dogs without a licence," said the vet. "And we have to be responsible to the owners of these taken-away dogs."
After paying for a fine of 300 yuan (US$36) as well as 2,000 yuan (US$241) in licence fees for each dog, the vet was finally able to bring back the "kidnapped" dogs, but two very small ones died.
"I heard some pet hospitals buy low-price puppies from nearby markets and turn them in when dog catchers come," said the vet, "but I don't think it right to put these puppies to death in this way."
Concentration camp
Dogs with licences are returned to their owners, the rest will be sent to a "dog detention station" on Liuchang Lu.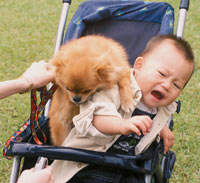 An infant shares his pram with the family's pet dog on an outing in a local park. [newsphoto.com.cn]
"I was scared," Jiang said recalling his experience with the dog catchers. "It was at that moment that I realized the importance of registering and obtaining a licence for each of my dogs."
"One has three to seven days time to claim their dogs. After that, the unclaimed dogs will be killed and cremated in the station," said Zhou Quan, vice-director of Shanghai Institute of Veterinary Hygienic Supervision.
Jiang went a long way to the station to collect his dog, walking on paths surrounded by grass and shrubs. "There was a high chimney. The place was like a concentration camp. When dogs bark too loudly, people would jet water at them and they would be quiet," he said.
Finally he found his dog very dirty, holding to the side of a cage with many others. "It couldn't recognize me." Fortunately, his dog recovered after a few days.
When Jiang complained about the hardships of keeping a dog in China, a policeman replied: "What hardship? You just pay the money and it is done."
The vet also complained about the attitude of the dog administration system in Shanghai. "The dog-catching team came to my hospital because I didn't 'pay respect' to them. One of them even said that, though later their director didn't admit."
The Public Security Department of the Police refused to comment. "It is a sensitive issue like our family planning policy," said one of its PR personnel.
One thing they are afraid of is protests from international animal protection organizations. "That does not fit with Shanghai's image as a friendly cosmopolitan city," said Zhou.