Lawyer: Chance of winning case slim
( 2003-09-12 09:34) (China Daily)
Although victims of the 52 gas bombs that the Japanese army left in the city of Gaocheng claimed that they will sue the Japanese Government, lawyer Su Xiangxiang warned that the chances of winning the lawsuit are slim.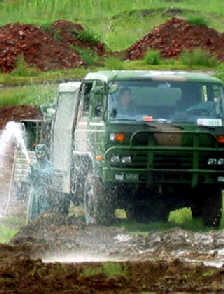 Anti-chemical weapon troops from the People's Liberation Army (PLA) Shenyang Military Command clean a construction site in Qiqihar City, Heilongjiang Province in northeast China. Leaks from mustard gas canisters on August 4 left behind by invading Japanese forces in World War II, have hospitalized 35 people. Two victims are now in critical condition. [newsphoto.com.cn]

Meanwhile, Su also said yesterday that an investigation conducted by Japanese weapons inspectors, the 14th such visit since 1995, will not answer appeals from the Chinese side on compensation matters.

Su made the remarks on the sixth day of a joint investigation by China and Japan in Luquan, a county-level city west of Shijiazhuang. The investigation is focused on dealing with 52 gas bombs, which were found in 1991 in Gaocheng, a city east of the capital of North China's Hebei Province.

The investigation was conducted behind closed doors and is expected to end on September 19.

The 34-year-old lawyer began providing free legal assistance in 1995 to people suffering from various afflictions after being exposed to chemical weapons the Japanese army left in China.

"It is the obligation of the Japanese Government to recover these weapons," Su said, citing the Chemical Weapons Convention of 1999 and a memorandum signed between China and Japan that year to destroy chemical weapons left behind in China.

But after talking by telephone with Gaocheng Middle School officials, Su said there is insufficient evidence to bring accusations against the Japanese Government on the matter. Gaocheng Middle School is where the bombs were discovered, leading to a number of medical concerns for at least 90 people.

According to Huang Chengcai, the school's former principal, almost none of the victims kept medical records.

"If there is no proof of the injuries that the victims suffered, it is too difficult to make a case," Su told China Daily. Representing the Chinese victims, Su brought two actions against the Japanese Government in 1996 and 1997. The first appeal for compensation was rejected in May, and the second case will go to court later this month.

The Gaocheng Middle School has suffered economic losses of 319,000 yuan (US$38,500) since 1991, including labour force fees, vehicle fees and subsidies to victims injured by the bombs, said Huang.