Bin Laden: Make Iraq a graveyard for US
( 2003-09-11 17:15) (Agencies)
Al Qaeda leader Osama bin Laden made a surprise appearance in a videotape aired on Wednesday to mark the Sept. 11 attacks, along with his top aide who urged fighters to turn Iraq into a graveyard for American troops.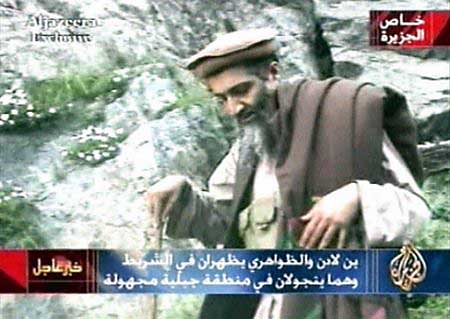 A video grab image from Al Jazeera television shows what it said to be new footage of al Qaeda leader Osama bin Laden, shot in an unknown location, and shown on Sept 10, 2003. The footage was aired along with a separate audio tape in which another al Qaeda leader, Ayman al-Zawahri, urged more attacks on the United States. [Reuters]

Bin Laden and Ayman al-Zawahri, his right-hand man, were shown in a rare tape obtained by Al Jazeera Arabic television, descending a rocky mountainside as they steadied themselves with walking sticks, automatic rifles slung over their shoulders.

"To our struggling brothers in Iraq: we greet you and we pray to God to be on your side in fighting the crusaders," Ayman al-Zawahri, or someone sounding very much like him, said on the tape.

"God is with you and the entire nation supports you. Rely on God and devour the Americans just as lions do with their prey, and bury them in the graveyard of Iraq."

The tape had an audio message said to be from Saudi-born bin Laden in which he praised the 19 suicide hijackers who flew planes into New York's World Trade Center and the Pentagon in Washington two years ago on Thursday.

"Whoever wants to be taught about loyalty and honesty should have known them (the attackers)... They were the most honest and the bravest," he said.

Bin Laden said the panic caused by the attacks made "people wake up from their slumber and rise for jihad (holy war)."

Islamic songs echoed in the background on his audio tape.

The CIA and analysts around the world immediately began poring over the tapes to gauge their authenticity and scour them for clues of when and where they might have been made. Al Jazeera said the video was probably filmed in April or May.

Messages from al Qaeda leaders are often seen as a signal to supporters to mount attacks. FBI and U.S. Homeland Security officials warned last week of the threat of more al Qaeda attacks on the United States.

MORE ATTACKS

Zawahri said U.S. efforts to crush al Qaeda had failed and the network had instead grown in the past two years. He promised more attacks to "punish" the United States.

"This is the second anniversary of the New York and Washington invasions which defied America and its crusade from whose wounds it is still staggering in Afghanistan and Iraq.

"We tell you (America) that what you have seen so far are only the first skirmishes and the beginning of the clash. The real battle, however, has not started yet."

"We are not advocates of killing and destruction, but with the help of God, we will cut the arms of anyone that touches us or carry any aggression against us, so prepare yourself for punishment for your crimes," Zawahri said.

The video showed close-ups of a thin and haggard bin Laden sitting next to a tree. Both men wore Afghan- or Pakistani-style clothes, with baggy trousers and long shirts and vests.

Zawahri, 52, called on Palestinian militants to keep up their fight against Israel and attacked Pakistani President Pervez Musharraf, accusing him of treason for handing militants over to Washington.

President Bush said on Wednesday al Qaeda "still plots against our people" and would be defeated.

Until Wednesday's tape, no new video pictures of bin Laden had been seen since April 2002, though al Qaeda has issued several audio messages over the last year.

The sudden appearances were meant to mark the September 11 attacks in which more than 2,800 people died. The hijackings were blamed on al Qaeda and sparked the U.S. "war on terror."

"We believe he is alive, but we can't tell you when the picture was shot or when the audio was recorded," a U.S. intelligence official told Reuters.

U.S. officials have repeatedly said bin Laden was believed to be in the border region between Afghanistan and Pakistan.