Swedish Foreign Minister Lindh dies after stabbing
( 2003-09-11 16:29) (Agencies)
Swedish Foreign Minister Anna Lindh died after prolonged surgery Thursday after being stabbed by an unidentified man in a Stockholm department store Wednesday, Prime Minister Goran Persson said.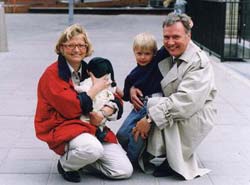 Swedish Foreign Minister Anna Lindh, left, with her husband Bo Holmberg and their sons Filip, left, and Daniel, right, in a 1994 file photo. Lindh was taken to hospital Sept 10, 2003, after being stabbed several times in the arms, chest and stomach at the NK department store in Stockholm. [AP]

A leading campaigner for Sweden to join the euro zone in a referendum Sunday, and tipped as a future prime minister, she was stabbed in the chest, stomach and arms while shopping.

"I have received with sorrow information that Sweden's Foreign Minister Anna Lindh died this morning at 5:29 a.m. of her wounds," Persson told a news conference. "Sweden has lost one of its most important representatives."

Karolinska hospital said in a statement that Lindh died of "massive bleeding caused by knife wounds to the liver and many of the big blood vessels in the abdomen."

It is the first political killing in Sweden since the unsolved assassination of Prime Minister Olof Palme in a city center street in 1986. Except for Persson, politicians in Sweden rarely have bodyguards to ensure they can keep close to the electorate -- a policy now likely to be reviewed.

The stabbing took place in the final days of campaigning ahead of a Swedish referendum Sunday on whether to join the European Union's common currency, the euro, though it was not clear whether the two events were linked.