US$1.3b to tackle loopholes on health
( 2003-09-11 07:11) (China Daily)
More than 11 billion yuan (US$1.3 billion) will be invested this and next year to improve China's healthcare system and its emergency response capacity.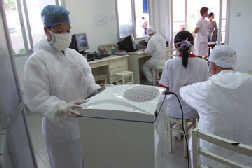 The picture shows a hospital in Xiamen, East China's Fujian Province. [newsphoto.com.cn]
Zhao Zilin, vice-director of the Planning and Finance Department under the Ministry of Health (MOH) made this remark at the two-day China Health Forum, which opened yesterday in Beijing.
The forum focuses on the construction of a public health and emergency healthcare system in the post-SARS period.
The central government has already allocated 3 billion yuan (US$362 million) in treasury bonds to kickstart the improvements, according to Zhao.
The US$1.3 billion fund will be used to set up aid centres and hospitals for infectious disease treatment in cities and counties.
Zhao said within three years the country will establish a public healthcare system covering both urban and rural areas which is multi-functional and responds swiftly to emergencies.
The importance of such a system has been highlighted by the confirmation of a new case of SARS (severe acute respiratory syndrome) in Singapore on Tuesday.
According to Xinhua, a MOH spokesperson said yesterday China remains on high alert for SARS and will closely monitor the situation in Singapore.
The spokesperson confirmed no new possible or confirmed SARS cases have been found on the mainland.
The ministry will alert the public as soon as possible if problems arise, the spokesperson said.
The SARS outbreak in spring panicked the public and uncovered flaws in China's healthcare system.
Zhao said rural healthcare institutions lack advanced facilities and professional staff and have little capacity to respond to emergencies.
Most existing healthcare and treatment facilities are unduly concentrated in central and eastern cities.
In addition, medical treatment institutions and disease prevention and control centres across the country are not communicating well enough.
Hospitals and other treatment facilities should report cases of contagious illnesses to disease prevention and control centres quickly so that these centres can issue timely warnings, Wu Mingjiang, director of the MOH's department in charge of the reform of medical treatment institutions, told the forum.
Zhao said a communication network between medical treatment institutions and disease prevention and control centres will be set up in the next two or three years.
More than 150 health officials and experts from across the country are attending the meeting, jointly organized by the MOH's international health exchange and co-operation centre and the US multinational Johnson & Johnson.