Fighting won't bug these crickets
( 2003-09-10 09:01) (China Daily)
When Nick Land heard a 2-centimetre-long cricket sold for 8,000 yuan (US$967) in the local market, he couldn't believe it. "It's just a small insect," he said.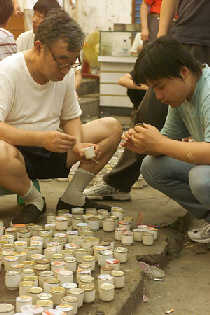 Cricet hobbyists search for their favourite creature at the Flower and Bird Market on Xizang Nanlu, downtown Shanghai. [China Daily]
It was clearly beyond the Briton's comprehension that there are even more expensive crickets. At the Flower and Bird Market on Xizang Nanlu in downtown Shanghai, several traders boast of selling a single cricket for 10,000 yuan (US$1,210) or more.
Raising crickets is a traditional Chinese hobby. According to historical records from the Tang Dynasty (AD 618-907), imperial concubines put crickets in small gold cages and took them to bed to hear their singing during the night. Ordinary people later followed what they considered a graceful hobby.
The activity was still flourishing during the Qing Dynasty (1644-1911), when the imperial family, city residents, village people and scholars all feverishly collected crickets every summer.
The tradition was passed on.
"I have hundreds of cricket jars and I keep them in my bedroom and living room. I enjoy them so much on summer days," said 28-year-old Fu Cun.
Fu isn't the only one addicted to raising these fascinating insects, which can both sing and fight. It is estimated by www.xishuai.net, a national cricket website, that there are about 10 million people raising crickets from July to November each year, when the insects reach maturity.
In Shanghai alone there are 20 cricket markets, and many other Chinese cities, including Beijing, Hangzhou, Xi'an and Nanjing have at least one each.
Great popularity
No one knows exactly why this small insect has struck such a chord with the Chinese people, but poems, essays and even learned research about crickets have been passed down from antiquity.
A big body, big jaws and a black face are the standard of excellence for a cricket, but finding a good one is not easy.
Fu Cun, who has been involved with cricket fighting for 20 years, said he often has to wait in the field for a whole day before he finds the right one. "It will be very lucky that I can find one good specimen in a day," he said.
The way a cricket is raised is also crucial. "I feed my crickets a special combination of corn and wheat flour with sliced apple," said Huang Huoyong, a stall keeper at the Xizang Nanlu Flower and Bird Market. For especially excellent crickets, calcium tablets or ginseng might be added to strengthen their bodies and hone their fighting abilities.
Huang said that among cricket fighting's most devoted fans it is common to hear they would rather share their bed with their crickets than their wives.
Others, like Huang, simply enjoy the insects' beautiful singing. He recorded a CD of cricket and bird singing and says: "When I am tired, I just enjoy this CD and feel relaxed."
But for most cricket hobbyists, fighting is the supreme goal. "It gives me a great sense of victory and happiness when my cricket wins," Fu said.
Solitary creature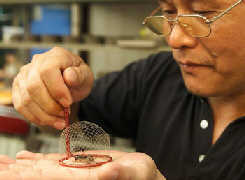 A good fighter is a hot commodity. [China Daily]
Crickets are solitary creatures that live underground. In maturity they mate. If two male crickets meet in the same place, they fight each other.
Although only the males fight, cricket dealers also sell females to accompany the fierce fighters. On the market, a female cricket sells for just 1 yuan (12 US cents), and some experienced collectors can find over 100 a night.
A cricket exuviates seven times during its lifespan, which can be several months. The insects become mature after the seventh exuviation, which usually occurs in the summer or autumn.
"Cricket fighting is really exciting!" said Zhou Jisheng, owner of a stall opposite Huang's. "The two insects will bite each other with their powerful jaws. Sometimes all their legs are bitten off, but they still move and bite until death. They are real warriors."
Before the combatants are placed in a box, they are carefully weighed, just like boxers. Then they're prodded with stocks of grass to compel them to fight.
Generally speaking, the competition will be finished in a few minutes, but for some powerful crickets the fight might last half an hour or even 45 minutes.
Expensive fighters
Fu saw with his own eyes how the price of one cricket rose from 180 yuan (US$22) to 8,000 yuan (US$967) in about 40 minutes - and it was not even the best one.
In 1999, a cricket called "King of the Insects" was priced at 100,000 yuan (US$12,000) in Shandong Province.
"I never sell cheap ones," said Zhou, glancing contemptuously at lines of people sitting on the ground selling 5 yuan (60 US cents) crickets. "My crickets all cost at least 200 yuan (US$24). The cheap ones simply can't be compared with mine at all!"
It is a lucrative enterprise, too. "Selling crickets is a good business; it is easy to earn several thousand yuan every month," Huang boasted.
This is Huang's first year in the cricket business. He spent 5,000 yuan (US$600) to purchase about 300 insects in Shandong, and on his way back to Shanghai he had to feed them twice a day.
"It's a free and enjoyable job... much better than being employed by someone else," said Huang, who recently sold a cricket for 1,500 yuan (US$181).
"I guess many of those expensive insects are for gambling," Huang said. "How could an ordinary person afford to spend thousands of yuan on a cricket?"
Illegal game
According to Huang there are a number of people who live entirely off the income derived from cricket gambling, although the activity is illegal. Stakes can range from thousands of yuan to tens of thousands, all in cash.
Yet what Huang has witnessed is still small scale compared to "real gambles." One insider, who asked to remain anonymous, said he has attended "luxury games" in outlying provinces, with the venue changing each time to elude the police.
"Outsiders are never allowed to see such games," he said, adding that they are only held during the winter season.
Only those crickets who survive the cold are tough enough to compete.People put these treasured insects in foam boxes with ice-filled insulation, because crickets like a cold environment. The box bottoms are cushioned with springs to prevent sudden jolts from harming the crickets.
Cheap and fierce
A popular place for the Shanghai cricket dealers to find cheap and fierce crickets is the Qiaosi town of Yuhang near Hangzhou in East China's Zhejiang Province.
It is said that the crickets there all come from fields growing hot pepper, thus the insects have a hot temper and amazing strength.
But the most renowned source of top specimens is still Ningyang County in Shandong Province, where the cricket business is the main income of local people.
In the past, people could find crickets in the suburbs of Shanghai, Hangzhou and Shaoxing in Zhejiang Province, but with tall buildings taking up most space crickets are getting more difficult to find.
Farmers in Ningyang County are currently collecting crickets in the field. A busy season could well generate a family over 10,000 yuan (US$1,210), which provides their main income for the year.
Research institutes, national cricket competitions and cricket companies are set up in Ningyang, and it is estimated about 500,000 people travel there for crickets every year, most from Beijing and Shanghai.
"The fields are filled with cricket businessmen and fans," Zhou said. He showed his leg covered with small red spots - insect bites he received while collecting crickets in Shandong. "But it's all worthwhile," he said.
(China Daily 09/10/2003 page9)