Shanghai Museum to display US$4.5-million calligraphy album
( 2003-09-07 14:49) (eastday.com)

The Shanghai Museum plans to exhibit a newly acquired precious ancient calligraphy album of the Northern Song Dynasty (960-1127) at its great hall for a month starting September 24.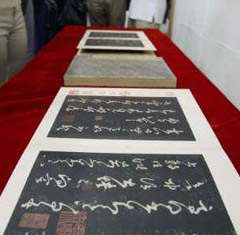 Chinese photographers take pictures of reproductions of calligraphy works of Wang Xizhi at news conference in Shanghai Thursday. China reclaimed a part of its cultural legacy when Shanghai formally unveiled on Thursday the purchase of rubbings based on the work of famed calligrapher Wang Xizhi from an American collector. The rubbings, taken off stone carvings during the Northern Song dynasty in 992 AD, were purchased from an American collector for US$4.5 million earlier this year. [Reuters]

The album, Chunhua Ge Tie, is seen as a priceless treasure of China in regard to calligraphic samples. It's the first collection of calligraphic samples in China's history.

Compiled to the order of the Song Emperor in AD 992, the 10-volume collection is comprised of more than 400 masterpieces of some 100 celebrities dating back from Han to Tang Dynasties.

To make these masterpieces immortal, ancient intelligence of the Chinese people made it by engraving the whole 10 volumes onto wooden plates.

Wooden plates functioned as copy machine at the ancient times that made facsimiles of vintage pieces and enabled their wide circulation.

Tales had it that after an emperial fire accident, which destroyed all the wooden plated versions, the only copies left for the offspring were reduced to the limited facsimiles, or the rubbings, kept by some Song ministers as gifts from the emperor.

Vanishing with the elapse of hundreds of years, the only original rubbings, rather than the copies of the rubbings, known to people today are reduced to four volumes, exactly those to be exhibited at the Shanghai Museum this time.

Shanghai Museum claimed at a news conference that the exhibit of the four volumes has been the only original available in the world today.

The rest six volumes are yet to be discovered around the world, with the least hope that another Indiana Jones returns one day in the anticipated future.

The four volumes cost the museum US$4.5 million yuan in a purchase April this year, from the hand of the an aging American Jew, the museum said.

That price tag is listed second to the top in China's history, after a HK$44.04-million deal of a Ming Dynasty (1368-1644) ceramic pot in 2000.