Bermuda devastated by hurricane fabian
( 2003-09-07 10:27) (Agencies)
The dark clouds of Fabian lifted Saturday, revealing the devastation wrought by the most powerful hurricane to hit Bermuda in 50 years: pulverized trees, shorn rooftops and tens of thousands of homes without power.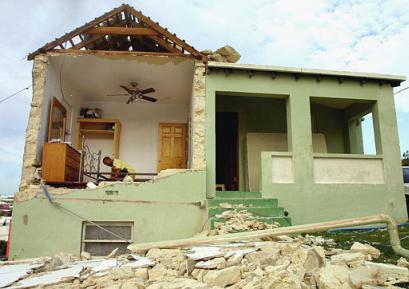 An unidentified member of the Darrel family checks his belongings inside his damaged house in Devonshire, the day after Hurricane Fabian hit Bermuda, Saturday, Sept. 6, 2003. The most powerful hurricane to hit Bermuda in 50 years roared into the British territory, leaving four missing and 25,000 homes without power. [AP]

Four people were missing from the storm, which unleashed 120 mph winds when it slammed into the British territory Friday afternoon. By Saturday, the storm had moved on and the reality of the devastation had set in.

"We have experienced a considerable beating," said John Burchall, a spokesman for the Bermuda government. Damage estimates were expected to take days.

Divers were looking for the missing ¡ª two police officers and two civilians ¡ª whose vehicles were swept off a causeway Friday, but poor visibility hampered the search.

Nine people sought medical attention Saturday for minor injuries, according to Valerie Pethen, another government spokeswoman. Most roads to hospitals had been cleared.

Power was still out in 26,000 homes because debris was blocking repair crews. Dozens of people remained in five shelters, and others were staying at hotels because of damage to their homes. Hospitals had power but many hotels were running on generators.

Hurricane Fabian's lashing winds shattered part of a wall in the airport causeway and officials said a decision would be made late Saturday on whether to reopen on Sunday.

There were reports of widespread flooding, and unconfirmed reports of looting. Many of Bermuda's famed golf courses were in ruins.

Premier Alex Scott toured damaged areas on Saturday.

"I am so very glad I am a Bermudian because I know what is going to happen next," Scott said. "We are going to come together like we always do. The world will watch us and learn about real community."

Dwayne Caines, a police spokesman, said the hurricane did major damage to the roofs of many homes.

"We've gotten lots of reports of slate that covers many roofs blowing away. We've had minor structural damage from debris such as broken windows and downed power lines."

Three men survived 20-foot swells after spending 10 hours at sea during the worst of the storm. Jay Simmons' 46-foot boat broke its moorings at central Spanish Point at noon Friday, but he wouldn't let the new $200,000 boat go down without a fight.

Simmons, 44, enlisted his brother Vaughan Simmons, 46, and Brendan Robinson, 48, to save the vessel, although Robinson was swept overboard in choppy seas.

"My life flashed before my eyes a few times," he said. "I don't think I have ever seen anything like this and I don't think I will again. We are lucky to be alive."

At 5 p.m. EDT, Fabian was about 860 miles northeast of Cape Hatteras, North Carolina. Meanwhile, Tropical Storm Isabel had formed about 660 miles west of the Cape Verde Islands.

Isabel, the ninth named storm of the Atlantic hurricane season, had maximum sustained winds of 40 mph Saturday morning and was expected to strengthen as it moved west at about 14 mph.

It was not expected to make landfall for several days.

Fabian tested Bermuda's vaunted ability to withstand a fierce storm. The wealthy British territory requires newly built houses to withstand sustained winds of 110 mph. It also has a study infrastructure with many of its power and phone lines underground.

Bermuda had not seen a Category 3 hurricane like Fabian since 1953, when Edna ravaged the island chain with its 115 mph winds.

Many tourists who decided to wait out the storm watched Fabian roll into the harbors Friday from their rattling hotel windows.

"It's terrific to watch but it's still intimidating," said Susan Chandler, 52, a New Yorker on vacation.

Islanders bolted themselves inside homes or fled to hotels, some of which reported gushing leaks.

Robert O'Leary, 59, from the Canadian province of Nova Scotia, was in Bermuda visiting his pregnant daughter. "We'll call the baby Fabian, I guess," said O'Leary, who nervously passed the time sipping Bermuda rum.

About 62,000 people live in the territory.