Passion flows on keyboards
( 2003-09-07 08:53) (eastday.com)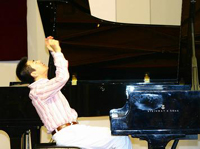 Lang lang, one of China's superstar pianists, plays for kids this week in town and tells Susan Zheng about Shakespeare, fame and making classical cool.
You could hear a pin drop in this small concert hall at the Shanghai Conservatory of Music as the notes from Strauss' Soiree de Vienne from the opera Die Fledermaus (The Bat) floated through the crowd of teenage students and their parents. It's a standard piece for these promising young pianists, but it wasn't the score that captivated them: It was the musician.
This tuesday, a day before his Shanghai Grand Theater concert, Chinese pianist Lang Lang was holding a master class for more than 100 piano students, and the students were agape at the innovative way Lang's fingers raced across the keyboard. It was a hard act to follow, but six students did so, with one lucky student performing Liszt's Hungarian Rhapsody No 6 under Lang's instruction. "You can make this period more dance-like and fluctuating," says Lang, demonstrating with his signature vivid expressions.
A minute passed. "Here, Liszt becomes a beast," Lang says, punctuating his instruction with a realistic roar and beastly move. Point well taken. "Classical music always impresses young people as too dull or stiff, something archaic and removed from them," says Lang. "I want to change that perspective and communicate with them through my music. And if I'm put on a pedestal for that, so be it," he shrugs. In fact, it seems that the goal of promoting classical music among young people has been on the 21-year-old's agenda for quite some time now.
Selected by his peers as one of the "20 Teens Who Will Change the World" last year, Lang has appeared on NBC, CNN, CCTV and other mainstream channels, enthralling young audiences with his expressive style. Unlike Vanessa Mae or his peer, Croatian pop pianist Maksim, who play classical music either on electrical versions of classical instruments or with the accompaniment of electrical music, Lang is a purist, a classical pianist who, over the past two years, has taken the United States and Europe by storm.
"I don't have to apply electrical sounds or 'cross-over' to arouse a young audience," says Lang, without the slightest trace of modesty. "Classical music is fascinating on its own and can drive an audience as wild as pop music. The way I render music is fully based on the original work of the classical composers. Pianists have different ways in rendering the same work and that's what interests listeners."
With the echoes of cheers in the West still ringing his ears, Lang returned to Shanghai seven years after his last recital here, and encountered the same enthusiastic response at home. Performing before a more demographically mixed audience, Lang kept his cool as well as his passion in the Shanghai Grand Theater's 1,800-seat Lyric Theater. His capriccioso in the complicated Islamey (Oriental Fantasy) for piano by Balakirev and superb virtuoso in Tchaikovsky's famed Piano Concerto No 1 won two rousing encores, while his rendition of Tan Dun's Eight Memories in Watercolor won a thumbs-up from the composer himself, who was in the audience.
"His performance is a fine combination of talent, passion, intelligence and brilliance, and his rendering of Tchaikovsky is both enthralling and convincing," says Yang Liqing, composer and president of the Shanghai Conservatory of Music. "He's so young -- he will have a bright future." Bright, yes. But whether the wunderkind will become the next Vladimir Horowitz, one of Lang's musical heroes, remains an open question.
Still, his achievements, particularly at his age, are impressive, equaling or surpassing those of all other Chinese pianists. Ever since he stood in as a last-minute substitute for Andre Watts at the Ravinia Festival in 1999 -- and captured the attention of the musical world -- Lang has played with many of the world's leading orchestras, including the London Philharmonic, the NDR Symphony Orchestra of Hamburg and the NHK Symphony of Japan. He was the first Chinese pianist to perform with all "Big Five" US orchestras: the Boston Symphony, the Chicago Symphony, the Cleveland Orchestra, the New York Philharmonic and the Philadelphia Orchestra.
Lang has been a commercial success, as well. His two recordings with Telarc Records, as well as his latest, with Deutsche Grammophon, with which he signed a five-year exclusive contract early this year, are all bestsellers on Billboard Traditional Classical Chart. In November, he will record his first DVD in Carnegie Hall, covering works from Chopin to Haydn, Liszt and Tan Dun. Like many successful young men, he embraces fame and does not even try to be modest.
When asked why he plays difficult pieces with so fast and so flashy, he says, with more than a hint of arrogance, "because I can do it." Lang styles himself as a musical intellectual, claiming that he doesn't want to just have unbelievably skilled "mechanical hands."
To that end, he is an aficionado of Shakespeare, from whom he claims to gain much inspiration. "Many classical composers love Shakespeare and so do I," says Lang. 'One can get a deeper understanding of Beethoven's magnificent works after reading The Tempest.
The poetic dialogue, precise structure and dramatics of Shakespeare's works all bring me closer to the music I play." The Shenyang, Liaoning Province native, who recently graduated from Philadelphia's Curtis Institute of Music on a full scholarship, has been considered a prodigy since childhood. As a child, Lang studied at Beijing's Central Conservatory of Music for five years, living with his father, Lang Guoren, an "erhu" soloist. By the age of 14, he already had a raft of international piano awards and had performed as soloist with the China National Orchestra.
This year, Lang will have performed in more than 150 concerts around the world, mainly in the United States and Europe. As a result of his busy performing schedule abroad, Lang's profile locally can't compete with that of another young pianist, Li Yundi, who won the International Chopin Piano Competition in Warsaw three years ago.
"It is understandable, since Li has spent more time touring China and Asia than me," admits Lang.
"But I will try to come back at least once a year in the future to perform for audiences here." And in keeping with his mission to bring classical music to the children of the world, Lang will hold charity concerts for children around the world in his capacity as Children's Music Ambassador for the United Nations.
"The two places I most want to go to are Iraq and Israel," Lang smiles. There's little doubt that as long as Lang keeps up his breakneck pace, he will bring his beloved art to Iraq and Israel -- in fact, to any corner of the world he desires.