Israel kills senior Hamas commander in West Bank
( 2003-09-06 09:41) (Agencies)
Israeli commandos killed a West Bank commander of the militant group Hamas in a raid on Friday that could deal a blow to reformist Palestinian Prime Minister Mahmoud Abbas's battle for political survival.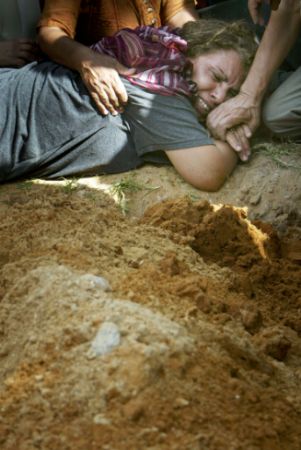 The mother of Israeli naval commando Sergeant Major Ra'anan Komemi cries over his grave during a funeral in Jerusalem September 5, 2003. Komemi was killed and four other commandos were wounded in an arrest operation in the city of Nablus, which ended when soldiers killed Hamas militant Mohammad al-Hanbali and then blew up an apartment building where he had been hiding inside. [Reuters]

An Israeli soldier was also killed and four soldiers were wounded in the operation in the city of Nablus, which ended when soldiers blew up an apartment building where Mohammad al-Hanbali had been holed up, making 28 families homeless.

The spectacle of the seven-story structure crumpling in a heap of dust was likely to give ammunition to opponents of Abbas's efforts to promote a U.S.-backed peace plan and persuade President Yasser Arafat to hand over control of security forces.

The army said naval commandos raided the building to detain Hanbali, 27, who opened fire at them from an elevator shaft where he had been hiding.

Israeli security sources said he was chief commander of Hamas militants in the northern West Bank and responsible for the deaths of dozens of Israelis in suicide bombings in a three-year-old Palestinian uprising for statehood.

The raid was launched a day after Abbas, a proponent of the faltering peace "road map," called on Palestinian legislators to back him or sack him. Palestinian officials said Abbas could face a no-confidence vote next week.

The outcome of the Abbas-Arafat face-off may determine the fate of the peace plan that has been nearly erased by a surge of violence since the collapse last month of a truce militants declared in June.

In an apparent bid to defuse the crisis, the Palestinian parliament was due to follow an inconclusive meeting on Thursday with a closed-door session on Saturday to hear more from Abbas on his dispute with Arafat.

Arafat was due to make his own arguments to legislators later that day without Abbas present, officials said.

ISRAELI SWEEPS

Israel has stepped up sweeps for militants in West Bank cities since the disintegration of the June 29 cease-fire underpinning the road map.

Accusing Abbas of failing to carry out a crackdown on militants mandated by the plan, Israel has also killed 11 Hamas men and four bystanders in helicopter missile strikes in the Gaza Strip, attacks Palestinians described as assassinations.

Israel's missile strikes followed a Hamas suicide bombing in Jerusalem on August 19 that killed 22 people, including an Israeli man who died of his wounds in hospital on Friday.

In Beirut, Hamas said it had met a Palestinian delegation in Cairo in recent days and was ready to discuss any idea -- including a new truce -- to stop what it called Israeli aggression against Palestinians.

Asked whether Hamas was ready to discuss a new truce, a senior member of the Hamas delegation and the groups' representative in Jordan, Osama Hamdan, told Reuters:

"I can say clearly we are ready to study any idea that will stop the Israeli aggression against the Palestinian people whatever the idea was, whatever it was entitled or wherever it came from."

Hamas leaders in Gaza ruled out any imminent truce.

British Foreign Secretary Jack Straw, meanwhile, said at a meeting of European Union foreign ministers in Italy that the bloc had reached a "broad consensus" to outlaw the political wing of Hamas, ahead of talks on the group on Saturday.

In a Gaza refugee camp, some 2,000 Hamas supporters marched in a rally to call for retaliation against Israeli missile strikes. They also lauded the Hamas militant shot dead by Israeli troops as a "hero...(who) killed an Israeli soldier."

Abbas, 68, appointed by Arafat in April under international pressure, pledged his commitment to the road map on Thursday but stopped short of requesting a confidence vote to strengthen him.

Palestinian officials have accused Israel of sabotaging peace moves through army raids and by failing to pull troops back from West Bank cities under the terms of the road map.

The plan calls for an end to three years of violence and the start of mutual confidence-building steps leading to the creation of a Palestinian state by 2005.