Official: No signs of major earthquakes
( 2003-09-05 06:50) (China Daily)
China's seismic activities are largely "normal'' despite the country being rocked by more earthquakes so far this year than in the whole of 2002, a China Seismological Bureau spokesman said Thursday.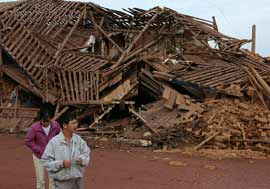 Houses are demolished as an earthquake hit Dayao, Yunnan Province, leaving 15 dead and more than 200 injured July 22, 2003. [newsphoto.com.cn]

Spokesman Li Qianghua also said his bureau saw no signs of a major quake threatening the Chinese capital, whose structures have either been reinforced or designed to withstand earthquakes of 8 degrees of seismic intensity.

"Compared with last year, we have clearly seen an increasing trend (in seismic activities),'' Li told a press conference organized by the State Council Information Office.

China has been hit by 27 tremors measuring more than 5 on the Richter scale since the beginning of the year, with 22 on the Chinese mainland, while the nation only recorded nine such quakes last year.

But half of the 22 tremors were in fact aftershocks from a quake measuring 6.8 on the Richter scale that rocked the northwestern region of Xinjiang Uygur Autonomous Region on February 24, killing 268 people, Li said.

"I think that the general situation in China is normal at the moment,'' he said. "The public has paid greater attention to earthquakes just because of their frequency as well as losses and damage that some of them have caused.''

Li added that eight of the 22 earthquakes measuring more than 5 degrees on the Richter scale have caused loss of property and human life.

Together they killed 291 people and seriously injured at least 2,200 others, while incurring economic losses of more than 3 billion yuan (US$361 million), according to the latest statistics from the bureau.

The spokesman reassured Beijingers that they need not worry about earthquakes.

"Historically, there had been some earthquakes in Beijing and its vicinity,'' Li said. "But based on our research and observations, we see no signs of a major quake looming in this region in the near future.''

The potential danger for Beijing, he said, comes mainly from the impact of earthquakes in surrounding areas.

That impact will unlikely cause damage to buildings in Beijing, which have been designed and reinforced against major earthquakes, Li said.

He suggested that Beijingers do not worry or get panicked when they experience some noticeable quakes in Beijing or hear about any nearby tremors.

Li said earthquake forecasting has been a problem for scientists throughout the world.

China has continuously improved its capacity to monitor and forecast earthquakes, but it has placed more emphasis on disaster prevention and earthquake relief efforts, according to Li.

Apart from implementing earthquake contingency plans and enhancing the public's awareness about quake prevention, the country is investing 2.7 billion yuan (US$325 million) in a digital earthquake observation network and a national earthquake disaster emergency relief training base, which are due to be completed by the end of 2007, the spokesman said.

As to earthquake relief professionals, the spokesman said China established its first National Earthquake Disaster Emergency Relief and Rescue Team in April 2001.

The 230-member mission consists of military engineering unit, seismologists and medical staff, who are equipped with advanced tools for search and rescue, medical treatment and sniffer dogs, he said.

The western areas of China, which are more prone to earthquakes, are expected to establish their regional earthquake disaster emergency relief and rescue teams soon, Li said.

Key Figures
China has been hit by 27 tremors measuring more than five on the Richter scale since the beginning of the year.

The 22 tremors recorded on the mainland killed 291, injured 6,700 and affected 1.75 million people.

Of the quakes, four measured above six on the Richter scale. They occurred mostly in remote areas of Xinjiang, Qinghai, Yunnan and Tibet.