High alert stressed against influenza
( 2003-09-05 06:50) (China Daily)
Health authorities yesterday called on medical service providers and residents to take all possible measures to prevent influenza this autumn and winter which may also see the return of SARS.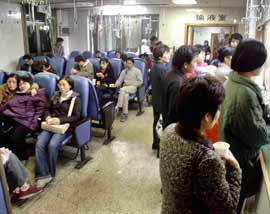 Influenza patients wait for treatment in a hospital in Hangzhou November 29, 2002. [newsphoto.com.cn]

The Ministry of Health issued guidelines yesterday, urging the country's health systems and people to make more of an effort in preventing influenza especially by taking vaccines., said the ministry's press office.

On October 6, the World Health Organization (WHO) will issue its annual recommendations for the composition of influenza vaccines effective against the virus strains currently circulating in human populations, said a document issued by the WHO on its website.

The recent global outbreak of SARS (severe acute respiratory syndrome) has heightened concerns about the occurrence of respiratory diseases having symptoms similar to those seen with SARS.

Currently, SARS has no vaccine, no effective treatment, and no reliable point-of-care diagnostic test. However, there have been effective vaccines and treatment measures for influenza, experts noted.

As the recurrence of SARS during the influenza season cannot be ruled out, health authorities are concerned that cases of influenza and other respiratory diseases, particularly when they occur as clusters in healthcare facilities, could raise suspicions of SARS.

Meanwhile, the WHO will join hands with the Ministry of Health in launching a new SARS surveillance system in about 10 to 14 hospitals in Beijing, South China's Guangdong and North China's Shanxi Province, according to Maria Cheng, the WHO spokeswoman in Beijing.

New equipments will be added to these hospitals to help them to immediately tackle SARS if it breaks out.

The Ministry of Health confirmed on Wednesday that no SARS case has reappeared in the mainland of China since August 16 this year when the last two SARS patients were discharged from hospital in Beijing.

In another development, starting from this month, all the fever patients in Guangzhou, capital of Guangdong Province, have been required to be isolated in hospitals or at home for further observation for no more than a week.

The move aims to prevent SARS from spreading again in the city during the coming peak period of flu and other respiratory tract diseases, Vice-Mayor of Guangzhou Li Zhuobin said yesterday.

Guangzhou will resume a SARS reporting system beginning from next Monday to prevent the disease from breaking out again in the coming winter and spring in the city.