US said taking North Korean threat seriously
( 2003-09-04 09:36) (Agencies)
Despite a public emphasis on future talks, the Bush administration is taking seriously a North Korean threat to possibly test soon a nuclear weapon or missile, moves that would send shock waves throughout Asia.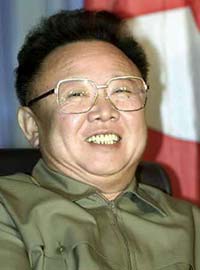 North Korean leader Kim Jong-il smiles during a visit to Vladivostok in this Aug 23, 2002 file photo. [Reuters]

U.S. officials told Reuters on Wednesday there was so far no hard evidence of preparations for such a test.

But after North Korea told six-party talks in Beijing last week it may feel compelled to "demonstrate" its capabilities, Washington will intensify its vigilance with spy satellites over the top half of the Korean peninsula, the officials said.

"Everybody has been speculating about it," one senior official said of internal administration discussions.

"It's entirely in character that they would do something. ... Given the way the six-party talks went and the North Korean comments since then, they are certainly setting it up for the possibility of doing something like that," he said.

Pyongyang has signaled a test could occur next Tuesday, the 55th anniversary of the founding of the isolated communist state.

The context in which the North Korean delegation made those remarks in Beijing has led some analysts to conclude Washington, hewing to a hard line toward Pyongyang, missed an opportunity to engage in hard-nosed diplomacy.

But U.S. officials and other analysts said the threats fit a pattern of North Korean intimidation and may well be fulfilled. That would strengthen administration hard-liners who have long argued North Korea is irredeemable.

North Korea's parliament took the unusual step on Wednesday of announcing it would take "relevant measures" to support the communist leadership's decision to reject further talks and boost the country's nuclear deterrent.

CONCRETE PROOF

Since telling the United States last October it had a secret program to produce highly enriched uranium for nuclear weapons, Pyongyang has ousted U.N. monitors from the country, withdrawn from a key nuclear treaty and begun reprocessing spent fuel rods, also for use in nuclear weapons.

If Pyongyang tests a weapon, it would be the first concrete proof of long-standing claims of actual nuclear capability.

A successful test of a three-stage missile would demonstrate North Korea's ability to hit the United States.

Coming after the start of a diplomatic process with the six-party talks, such tests would be a "significant development (and) reflect a fully considered decision of where (North Korean leader) Kim Jong-il and his regime are" on the nuclear issue, the senior U.S. official said.

The administration, bitterly divided over North Korea policy in the past, has not decided how to proceed if there is a test or, as some officials theorize, another lesser but still provocative action, like intercepting a U.S. spy plane.

Although it has since made conflicting statements, North Korea agreed in Beijing with the United States, China, Japan, South Korea and Russia to more talks, probably in mid-October.

The U.S. official said it would be safe to assume that "testing would close the door on negotiations" with Pyongyang.

"At that point, it becomes clear there is nothing left to negotiate and they are committed to nuclear weapons. At that stage, you have to get serious about isolating them economically and considering regime change," he added.

'WHOLE NEW BALLGAME'

Richard Bush, an Asia expert who held senior positions in the Clinton administration, the CIA and Congress, doubted Pyongyang would test.

To do so would anger China, the North's chief ally and benefactor, and upset Japan and South Korea, the main future donors if there was a nuclear deal with North Korea, said Bush, now with the Brookings Institution.

Another U.S. official said a second round of talks would go forward "assuming nothing (like a nuclear test) happens on September 9. If something does happen on September 9, or about that time, then it's a whole new ballgame."