US repels attack, seizes bomb suspects in Tikrit
( 2003-09-04 09:17) (Agencies)
U.S. troops battled Iraqi guerrillas who fired mortars near their base, then raided homes to detain suspected bomb-makers in a night of drama around Saddam Hussein's hometown of Tikrit.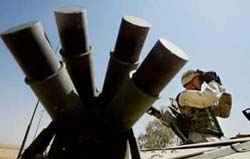 A U.S. military policeman looks through binoculars before a raid on a farmhouse in Tikrit, Iraq Sept 3, 2003. U.S. troops battled Iraqi guerrillas who fired mortars near their base, then raided homes to detain suspected bomb-makers in a night of drama around Saddam Hussein's hometown. [Reuters]

There were no American casualties, but U.S. commanders said at least one Iraqi may have died in the fighting witnessed by a Reuters crew accompanying the military.

"It's been a good night. We've responded fast and effectively to an attack, then we've found these bomb-makers who were producing explosives used against our troops," Colonel James Hickey, a senior commander in the area, told Reuters outside the houses raided in the early hours of Thursday.

The events began when Iraqis fired six mortars late on Wednesday, which flew over the U.S. military base at Saddam's former palace on the banks of the river Tigris and landed in wasteland in the town.

Within minutes, U.S. patrols were converging on the attackers from two sides, backed by Bradley fighting vehicles and Apache helicopters.

The 4th Infantry Division's 1st Brigade Reconnaissance Troop was first on the scene and immediately came under attack with at least two Rocket Propelled Grenades (RPGs) and small arms fire.

In a ferocious firefight, the Americans fired back with machineguns and grenade-launchers, and lit the sky with tracers, leaving a patch of land and debris in flames. It was not known how many Iraqis were there.

"That was beautiful, best firefight I've ever seen," said Sergeant Gilbert Nail, from Oklahoma, whose 1st Battalion, 22nd Regiment came over the bridge to reinforce the reconnaissance unit.

"It sounds like we got one of the RPG firers, you can hear his rounds cooking off," said Lieutenant Colonel Steve Russell, who leads the battalion, listening to small explosions coming from the flames. "We'll check the ashes in the morning." $1,100 "GOING RATE" TO ATTACK AMERICANS

U.S. forces in Iraq are coming under almost daily attack nearly five months after Saddam was toppled by U.S.-led forces and 67 U.S. service personnel have been killed since Washington declared major combat over on May 1.

U.S. commanders have said they believe Saddam may be hiding in the vicinity of Tikrit, about 100 miles north of Baghdad.

After the firefight, about 60 U.S. troops carried on with a planned raid on a house in Tikrit belonging to a suspected bomb-maker.

Homemade explosive devices have been plaguing the U.S. soldiers -- four were injured in the Tikrit area this week when their vehicles hit small bombs -- and commanders are on an offensive to root them out.

At about 1 a.m. (5 p.m. EDT), a dozen military vehicles quietly surrounded the house of the suspect before soldiers banged on his door and called him out, Reuters witnesses said.

The man gave himself up immediately. Three other men were also arrested in adjoining houses, where a large collection of explosive materials including grenades, wires and alarm clocks were found.

Commanders said two of the men were probably bomb-makers.

The U.S. soldiers also confiscated $1,100 in cash. "What a coincidence. Exactly the going rate for an attack on Americans, and all in crisp $100 bills," Russell said.

Adding to the night's tension, an improvised small bomb went off in a street next to where the raid was taking place, but there were no injuries.

Tikrit was a stronghold of support for Saddam during his rule, and remains a focus of anti-American resistance.

The 26,000-strong 4th Infantry Division based in Tikrit and controlling the three provinces north of Baghdad have in recent weeks been keeping up a relentless pursuit of Saddam and his loyalists, conducting hundreds of patrols and round-the-clock raids.