Premier: Stable RMB rate benefits all
( 2003-09-04 07:15) (China Daily)
Maintaining the stability of the exchange rate of the renminbi benefits both China and the United States, Premier Wen Jiabao said Wednesday.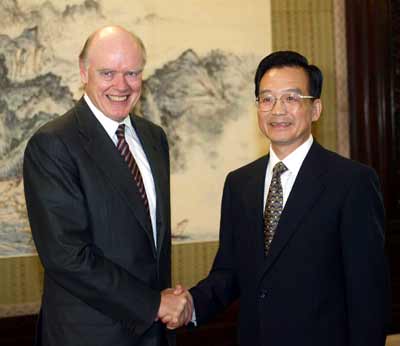 Premier Wen Jiabao meets with US Treasury Secretary John Snow.
He made the remark during a meeting with US Secretary of Treasury John Snow, who is in Beijing for a two-day visit to press Washington's case for loosening currency controls on the yuan.
Critics say China's fixed-exchange rate is a protectionist attempt to keep down the price of China-based exports in the world market.
But Wen said China adopts a regulated, floating-exchange-rate system based on market supply and demand.
"The system is not only appropriate for China's practical situation, but also shows China's high sense of responsibility to the international community," he said.
Along with its financial reform, China will further explore and improve the exchange-rate regime based on its economic development and performance as well as international balance of payment, he said.
The yuan has been fixed at about 8.28 to the US dollar since 1994. It is allowed to fluctuate, but only in tiny increments - a fraction of 1 per cent.
In recent weeks, China has taken some steps towards a slightly more flexible exchange system, such as loosening some restrictions on the handling of foreign currency by companies and by Chinese tourists who are travelling abroad.
In a detailed explanation of China's position on the renminbi issue, central bank governor Zhou Xiaochuan was quoted as saying yesterday that the yuan will be floated - but only when economic conditions are right.
China will not let the market play the decisive role in determining its exchange rate until the economic impact of China joining the World Trade Organization (WTO) has settled down. These changes include the opening-up of the trade sector and reforms of State-owned banks, Zhou told the Beijing-based Financial News.
He said there was room for discussion on whether the yuan could be tied to a basket of currencies rather than just the dollar.
Some US manufacturing enterprises have been asking their government to press China for a revaluation of the renminbi because they said the "undervalued" exchange rate has given Chinese exports an "unfair" competitive edge, resulting in China's huge trade surplus and causing unemployment in the US.
Although China is still running a trade surplus, its slashing of trade tariffs and robust economy have resulted in surging import growth, Zhou said.
Import growth has been much faster than export growth since the beginning of this year.
"If this momentum continues, China will reach a balance between exports and imports in one or two years," he said.
"It is still too early to say whether the renminbi is overvalued or undervalued. And it would be even more unwise to make adjustments (to its exchange rate) at the moment."
Zhou also said that a country's relative competitiveness in international trade is generally not determined by the exchange rate.
"The issue of employment in a large economy should be addressed mainly by structural changes instead of trying to pass on the problem to others," Zhou said.