Chinese teenager scores in Man Utd reserve match
( 2003-09-03 16:08) (Chinadaily.com.cn)
An eighteen-year-old Chinese teenager player scored in a Manchester United reserve team match Tuesday, only two days after his arrival in England.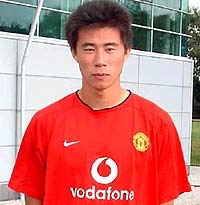 Dong wears United's No.35 during the training.

Dong Fangzhuo, a yougn forward from Chinese fisrt division giant Dalian Shide, is on a two-week training beginning on September 1 in the Premiership side. The goal came in the morning training session on September 2, when Dong picked up a ground pass from his teammate, dribled past the goalkeeper before shooting home at an open goal.

In United's No.35 jersey, Dong was played with a groin-injury recovered South African midfielder Quinton Fortune, with their side winning at 2-0.

When talking about the technical level of United's reserve team, Dong said the skills of the United players were good, especially in passing balls in movement, but Dong denied there's big difference in players' physical condition, compared to his home club Dalian Shide.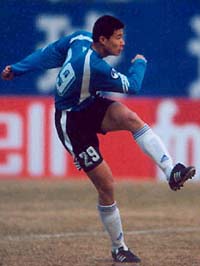 Dong shoots at a China's First Division match.

Dong Fangzhuo, deemed as the successor of China's best striker Hao Haidong, was picked up from applicants from six Chinese top league clubs for this two-week training at Manchester, said Dong's agent Gao Qi.

And the Manchester United, which offerred at the end of last year to bridge a cooperation with Chinese domestic clubs by providing trainings for Chinese teenager player with future , also promised "wider space" for the trainees.

Dong, promoted to the first squad of Dalian Shide as a 17-year-old last year, shot twice at his debut, in which Dalian Shide won 3-2 at the Junior national team of Saudi Arabia at the country's King's Cup. Dong also scored in Dalian's Asian Champions League match this March.

(by Fang Xuan, Chinadaily.com.cn)