Verdict due on terror 'leader'
( 2003-09-02 16:56) (CNN.com)
A Jakarta court is set to deliver a verdict in the trial of Abu Bakar Bashir, the alleged spiritual leader of the Jemaah Islamiyah (JI) terror group.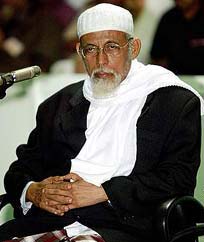 Indonesian Muslim cleric Abu Bakar Bashir sits on the dock during his trial at Central Jakarta court. Bashir will hear a verdict on Tuesday after a trial which was seen as a test of Indonesia's commitment to fighting extremism. [AP]

Ba'asyir is accused of trying to overthrow the government through terrorism, and experts have said Tuesday's ruling is being viewed as a big test for Indonesia's commitment to fighting Muslim militancy.

The 64-year old radical cleric allegedly headed the terror network blamed for a string of bombings in Indonesia and the Philippines, as well as plots against Western targets elsewhere in the region.

Among those attacks was a series of church blasts throughout Indonesia on Christmas Eve 2000 that killed 19 people.

Bashir, who was arrested days after last year's Bali nightclub blasts which killed more than 200 people, has not been charged in connection with the Bali attacks however.

He maintains his innocence and has denied any knowledge of JI -- blaming his fate on Singapore, Australia and the CIA. But witnesses appearing at trials relating to the Bali bombings have claimed either links to, or inspiration from, Bashir and JI.

What's more, prosecutors say Bashir was behind an aborted plot to kill Indonesian President Megawati Sukarnoputri when she was vice president, with the wider aim of establishing a fundamentalist Islamic state in Indonesia.

Prosecutors say those attacks were designed to destabilize the country of 210 million people, mostly Muslims. Authorities have said the JI wants to overthrow Indonesia's secular republican government and set up a pan-Asian Islamic state.

Jailed

During the regime of strongman president Suharto, Bashir was jailed for agitating for an Islamic state.

He escaped and spent years as a fugitive in Malaysia, returning in 1999 to help establish a network of Islamic schools, becoming well respected among fundamentalist Muslims.

The trial -- scheduled to end Tuesday when the verdict is given -- is sensitive for Megawati, whose coalition government depends on the support of moderate Muslim parties.

Representatives of these parties have in the past expressed support for Bashir. Analysts also say he remains influential in religious circles in Indonesia.

Perhaps as a reflection of the sensitivities involved, state prosecutors have asked the court to sentence Bashir to only 15 years in jail, instead of demanding the maximum life sentence.

While observers say a guilty verdict could trigger attacks in Indonesia and elsewhere, a failure to convict Bashir could draw flak from officials in the region and allies such as the United States.

In Canberra, the Australian government earlier warned its citizens in Indonesia to "exercise extreme caution," and asked Australians to defer all nonessential travel to Indonesia, citing fears of further attacks amid the ongoing trials.